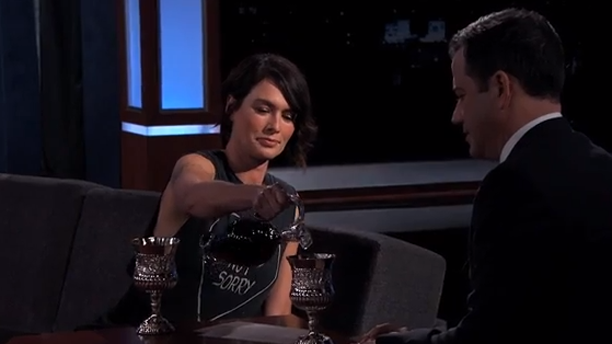 Jimmy Kimmel is a daring man, inviting Game of Thrones' Lena Headey, who plays the ruthless Cersei Lannister, to a war of words over wine.
Headey swung by Jimmy Kimmel Live on Monday night, following the Sunday night finale of Game of Thrones, in which 9.3 million viewers tuned in.
Kimmel is smitten with how Headey handles a goblet of wine on the HBO series and asks her to talk "Game of Thrones-style" with him while exchanging jabs in between sips of wine. Maybe Headey is all talked out about the season, because the two skip the traditional interview format, opting for more of a verbal sparring match.
Before they even start the game, Headey snaps at Kimmel not to touch the wine because she wants to pour it. Well, what do you expect from a woman donning a tee that reads, "I'm Not Sorry."
Game on.
Headey pours the wine, takes a long swig from her goblet, and says to Kimmel, "That is such a lovely tie, it's a shame it's around such a worthless neck."
Touché.
Kimmel strikes back with, "Well, thank you for coming today. I know you have a busy schedule of doing sex with your brother (as he fights back giggles). It must be so exhausting."
Burrrrrn.
That's just the start; it gets much more cutthroat from there.
You can watch the gobletslinging below:
Who did it best? 
See More:
WATCH: 'Sherlock's Mark Gatiss Makes His 'Game Of Thrones' Debut
WATCH: Joanna Lumley Acts Out 'Game of Thrones'
Brit Binge Watching: If You Like the British Actors in 'Game of Thrones' …
Read More
Filed Under: