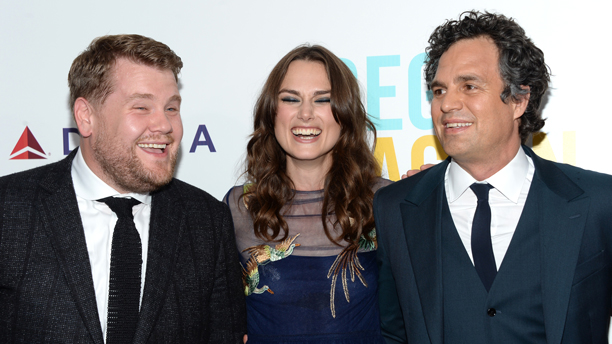 James Corden can be seen showing off his musical skills once again this weekend (June 27) with the release of the musical romantic drama Begin Again, in which he stars alongside Keira Knightley, Mark Ruffalo and Maroon 5 frontman Adam Levine. Corden plays a British street musician in New York who's a friend of Knightley's character. It's not a major role, but his fans no doubt will see him as a very pleasing addition to the film.
Begin Again, written and directed by Irish filmmaker John Carney of Once fame, is set in New York—and it's very much a valentine to the city. Corden has a close connection with the Big Apple having appeared on Broadway in two very successful British plays: The History Boys—and more recently One Man, Two Guvnors, which brought him a Tony Award two years ago.
He says: "I think I always have and always will have a sort of romantic attachment to New York, and I felt like I'd been here before I ever came."
Corden's last big screen musical role was in One Chance, in which he played Britain's Got Talent winner Paul Potts. It launched last year at the Toronto Film Festival and was released in the U.K. last October.
In December, Corden will appear in Disney's adaptation of Stephen Sondheim's musical Into the Woods opposite Meryl Streep and Johnny Depp.
Enjoying the high profile A-list Hollywood stardom of his fellow cast members is not something he seeks—his interest is in work opportunities. He says: "Mostly what I think is, wouldn't it be great to have freedom of choice, because I feel like that's when you've made it. It's not necessarily when your name's in lights, it's when you have some say of your choices."
See more:
WATCH: James Corden and Mathew Baynton Discuss 'The Wrong Mans'
Dawn French Is James Corden's Mum…
Read More
Filed Under: