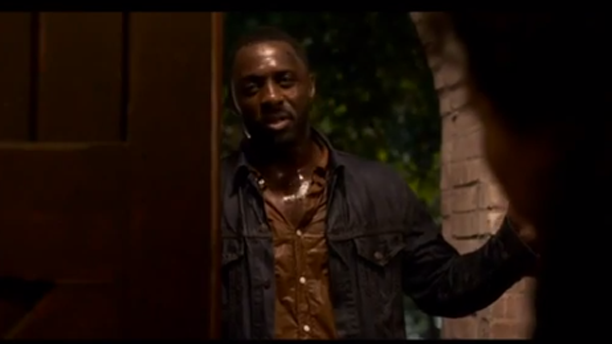 Rule number one: do not open the door if you are not expecting someone.
We love us some Idris Elba (Luther), but he is well scary when he wants to be, as seen in Sam Miller's homicidal thriller No Good Deed.
Sure, Detective Chief Inspector John Luther is no saint. But at the least, he has a good side, and you just know not to get on his bad side.
This time around, Elba plays an escaped felon who finds himself on the doorstep of an unsuspecting mother of two (Taraji P. Henson). Like we said, do not answer the doorbell. But, apparently no one is listening to us. Elba feigns a car accident, and Henson goes to phone the police. And what do you know, when she returns to the door there's no Elba, because he's upstairs playing with her young child. Is this a good time to squeal?
The 2:32 trailer is so fast-paced, leaving us breathless. An entire feature-length film might require an oxygen tank when exiting the theater (remember to breathe when on the edge of your seat).
You can watch the trailer below:
We really like Elba, and of course it's acting, but this guy is a nightmare. Sometimes the more alarming films revolve around situations that could actually happen.
The film hits U.S. theaters on September 12, 2014.
What do you think of Idris Elba playing a baddie? 
See More:
Idris Elba Creates a Global Man Panic
Idris Elba Responds to 'I'm Sorry I'm Not Idris Elba' Poem
WATCH: Idris Elba Directs First Short Film 'Unstoppable'
Read More
Filed Under: