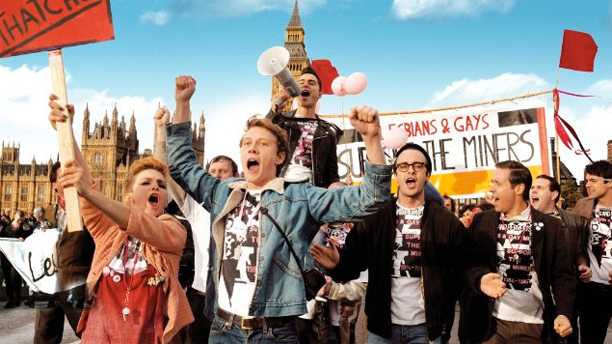 June may be LGBT Pride Month, but, around the world, the involvement of gay activists in the Britain's miners strike in the 1980s isn't widely known. But that may now change thanks to the efforts of a film made by Matthew Warchus, director of the hit British musical import Matilda.
The film is called Pride, and it received some good reviews when it was unveiled at the Cannes Film Festival last month. It stars Bill Nighy, Imelda Staunton and Dominic West in a true story which took place during the 1984 British miners strike when Margaret Thatcher was Prime Minister. Gay and lesbian activists who supported the strike found the miners were embarrassed to take money from them. So a group drove to a mining community in South Wales to make a donation in person.
It's about two very different groups coming together. "It's a very, very uplifting story that makes you want to punch the air," says Warchus.
Stephen Beresford, who wrote the screenplay, says: "What the film is about really is solidarity and about communities finding things in common."
Both director and screenwriter agree it's a mark of progress that Pride actually got made: resistance and bigotry would have stood in the way in years past. Matthew Warchus says, "It's a very exciting thing. That's what really thrilled me about it, is that you can only make this film now I think."
These are exciting times for Warchus. Not only has he made Pride, but he recently secured one of the more prized jobs in British theater, succeeding Kevin Spacey as artistic director at The Old Vic in London.
See more:
Kevin Spacey Calls Out Theater-Goer During London Performance at Old Vic
Mark Rylance, Joanna Lumley Get Tony-Worthy Reviews for 'La Bete'
Read More
Filed Under: