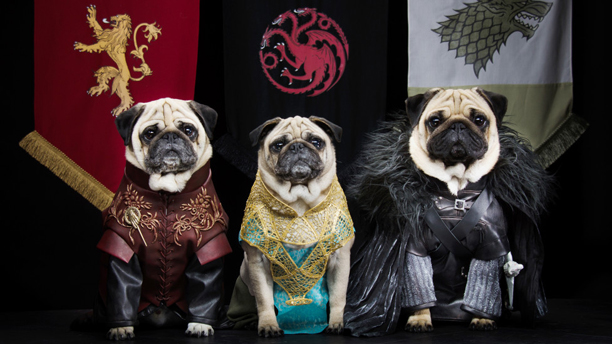 Blinkbox, a U.K.-based video-on-demand service, has introduced the canine world to Game of Thrones in their recently released video entitled The Pugs of Westeros.
"The three pugs, Bono, Roxy, and Blue, have been dressing up as movie and TV characters ever since they were puppies," says Blinkbox on their official website.
Hopefully the pugs didn't get into any arguments over who plays who in the casting process. Even if that were the case, they're more than professional on-camera, embracing their roles with major characters represented, including Joffrey Baratheon, Tyrion Lannister and Daenerys Targaryen. And Jon Snow is reunited with Robb and Ned Stark.
Blinkbox created the video to promote the fourth series of Game of Thrones now available via their service, but for us, it's just a bit of fun. You can check out the behind-the-scenes making of the family-friendly video here.
Watch the pugs in all their glory below:
What did you think of the sets? 
See More: 
WATCH: Jimmy Kimmel Spars, 'Game of Thrones'-Style, with Lena Headey
WATCH: Joanna Lumley Acts Out 'Game of Thrones'
Brit Binge Watching: If You Like the British Actors in 'Game of Thrones' …
Read More
Filed Under: