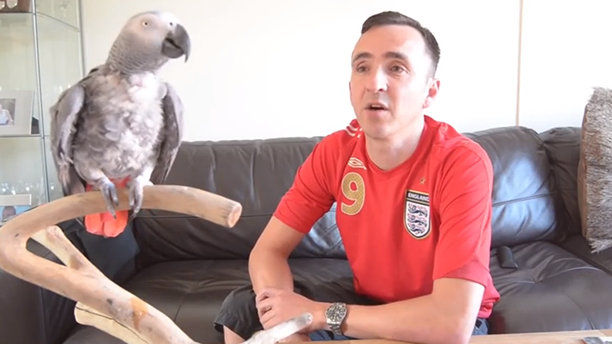 England fan Fran Sheridan, 42, from Worcester, England, has trained his pet parrot Slipmatt to whistle the tune to "The Great Escape" and chant, "England," and "Come on Rooney," at the end, reports the U.K. Express. But, now that England has been knocked out of the World Cup, the African grey parrot is just rubbing it in.
You can watch Slipmatt's patriotic performance in the below video:
Sheridan says it took about a month to teach Slipmatt the song and cheer. He told the U.K. paper, "He sat on his perch to watch the Three Lions' game against Italy on Saturday night and sang the anthem to the football, he sounds just like a rowdy football fan."
The idea came from Sheridan's young son who suggested teaching Slipmatt a football anthem. The family pet learned the song quite quickly, but now he won't stop with Sheridan explaining, "Now he sings it from the moment I take the cover off his cage in the morning until late at night."
With England no longer competing in the World Cup Sheridan states the obvious, "Now I can't get him to stop singing it, I have to admit it gets a bit annoying."
Here's the actual song for comparison:
http://www.youtube.com/watch?v=dNZmQZe53MA&feature=kp
Slipmatt was an early chirper. He started chattering away at three-months-old when it's more typical for birds of his type to "learn to talk" at eight or nine months. He can't be stopped.
A possible solution is to teach him a new song.
Do you have any song suggestions?
See More:
A British Animal Sanctuary Discovers All 100 Female Guinea Pigs Impregnated
Snapshot: Inside London's First Cat Café
8-Year-Old Kent Girl Befriends a Skunk
Richard Hammond Demonstrates Animal Magnetism
Read More
Filed Under: