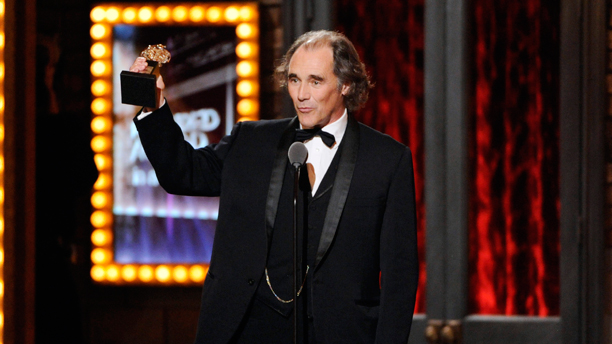 Mark Rylance, who last night won the best featured actor in a play Tony Award for his role in a production of Shakespeare's Twelfth Night, was beaming when he entered the press room.
"It's lovely to be liked. I'm very lucky," he said.
The British actor won for portraying the character of Olivia in an a production that had an all-male cast. It became one of the hits of the Broadway season earlier this year.
Rylance has won two previous Tony awards, for his leading roles in the plays Boeing Boeing (2008) and Jerusalem (2011).
Although delighted by his Tony triumph, Mark Rylance doesn't place too much importance on awards. "You're only as good as your last job and I think that's what really matters is whether you can turn up night after night and play as if it's the first night – and play for a bored audience as if they're just as important as the opening night audience—that's what makes a career. These [trophies] are just celebrations."
See more:
WATCH: Tony Winner Sophie Okonedo: 'Being a Black Actor in America is Easier Than in Britain'
WATCH: Arthur Darvill on 'Once,' Why He Loves New York, and Performing at the Tonys
Read More
Filed Under: