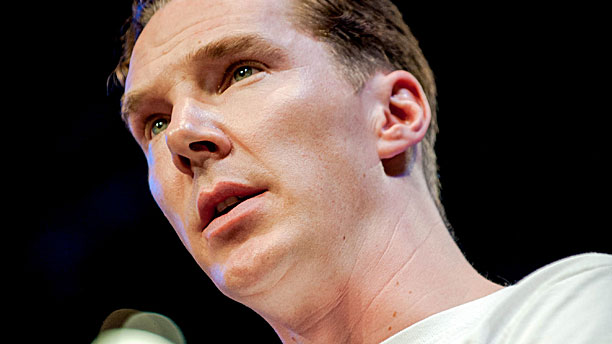 It has been a busy Hay literary festival for Benedict Cumberbatch. On Friday (May 30), he appeared onstage with Hugh Bonneville reading the winning entries in a BBC Radio 2 children's story competition, and over the weekend he took part in Letters Live, a series of dramatic readings of notable correspondence, to a packet tent of 1,700 people.
During the readings, he got to impersonate Iggy Pop (in a letter written a suicidal fan), the photographer Richard Avedon (in a letter to his dad), and perhaps of most note to Sherlock fans, the British serviceman Chris Barker, whose correspondence with Bessie Moore (read by Louise Brealey, who plays Molly) sparks a romance and eventually a proposal from a POW camp.
The event also featured, among many other items of correspondence, Rob Brydon reading a letter Richard Burton wrote to Elizabeth Taylor after their first divorce, in which he says, among other things, "God's eye may be on the sparrow but my eye will always be on you."
But the grand finale was saved for a moment of outrage from the author Kurt Vonnegut. In 1973, Charles McCarthy, the head of the school board in Drake High School, North Dakota, heard that one of the teachers had been teaching Kurt's book Slaughterhouse-Five, and decided this was not a suitable text for teenagers. So he ordered that all 32 of the school's copies of the book be collected and burned, along with other books noted for their "obscene language."
You can read the entire text of Kurt's letter to Mr. McCarthy at Letters Of Note, but here's Benedict's reading, as filmed by the fan site Cumberbatchweb:
Update: another bit of Hay magic happened during a Q&A with Dame Judi Dench. Arm in the air, Benedict said "would you like to be in Richard III with me?," referring to his forthcoming appearance in the post-The Hollow Crown collection of Shakespeare's history plays.
Put on the spot, Dame Judi did the only thing she could do, wait a while to let the tension build and then answer "Yeah."
For more letters of note, have a look at Letters of Note.
See more:
Steven Moffat on Casting Benedict Cumberbatch, David Tennant
WATCH: Benedict Cumberbatch On Theater, Hiddleston and O'Toole
WATCH: Benedict Cumberbatch and His Mum at the Chelsea Flower Show
Read More
Filed Under: