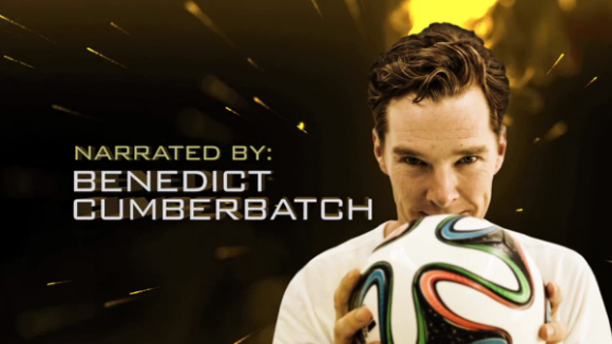 The World Cup is underway and there's a lot of chatter about Portugal soccer star Cristiano Ronaldo. And it's not always positive with a recent Daily Beast article going up over the weekend entitled "Why It's So Easy to Hate That Sexy Bastard Cristiano Ronaldo."
But he has the support of our very own super star Sherlock's Benedict Cumberbatch, who narrates a documentary about the soccer player called Cristiano Ronaldo: The World at His Feet.
Cumberbatch kicks off the story saying, "One can link its (soccer) worldwide popularity to its simplicity, because all you need is a football."
You can watch the trailer below:
The description for the movie reads: "Ronaldo is the most discussed athlete on the planet and, love him or loathe him, his talent and presence cannot be ignored."
Well, we appreciate the honest disclaimer.
Ronaldo is recognized as one of the top players in professional soccer, currently playing for Portugal in the World Cup and Real Madrid in the regular season, following his start at Manchester United, but he appears to go out of his way to turn people off with comments such as, "People are envious of me because I'm rich, handsome, and a great player." He forgot to add humble to that list.
I was just watching the Portugal versus U.S.A. World Cup game on Sunday, June 22, and saw a player with a zigzag shaved in the side of his head. I thought to myself, "Why does that player have to do that? Is he trying to stand out from his teammates?" Lo and behold, the player turned around and I got my answer, "Oh, it's Cristiano."
I'm on the fence when it comes to Ronaldo. But, possibly this documentary will change my mind as it apparently goes beyond soccer, providing a personal look at the player, beginning with his modest beginnings. I wonder if the documentary will swing by the Cristiano Ronaldo museum the footballer set up for himself in his hometown. Fingers crossed.
But with Cumberbatch on Team Ronaldo, maybe we can be swayed to look past Ronaldo's eccentricities. English players like Wayne Rooney and David Beckham, and former Manchester United manager Sir Alex Ferguson appear in the film.
The documentary can be seen in its entirety via Vimeo here.
If you can be guilty-by-association, can you also be liked-by-association?
See More:
Brit Binge Watching: Five Football Films Now Streaming Online
David Beckham, Wayne Rooney and Other English Football Greats Get Immortalized as Edible Art
WATCH: Stephen Hawking Uses Math yo Predict England's World Cup Soccer Success
Read More
Filed Under: