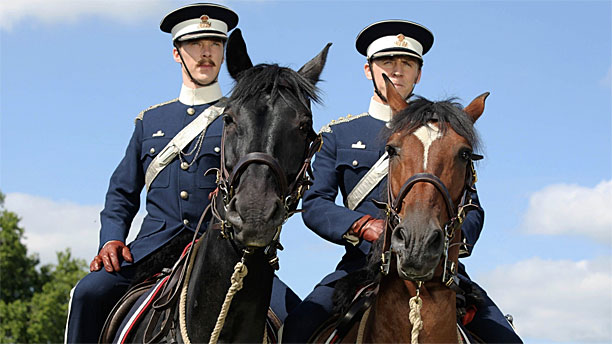 This may not be a thing, but it's already had the Royal seal of approval and could be the first time Benedict Cumberbatch and Tom Hiddleston have appeared on screen together since War Horse, so fingers crossed.
News reports emerged over the weekend of a battle to get a movie adaptation made of R.C. Sherriff's First World War play Journey's End—not to be confused with the First World War drama Parade's End, starring Benedict Cumberbatch—in time for the centenary of that conflict. It's a tale of British infantrymen and their time in the trenches of Saint-Quentin, Aisne, at the latter stages of the war. According to the Sunday Times, producers hope to cast Benedict as Captain Stanhope, with Tom as Lieutenant Osborne, and they're looking at Eddie Redmayne for a part too.
The problem has been securing the rights, which were assumed to have been held by Warner Bros. Finding out whether the movie could go ahead has been the onerous task of Fluidity Films producers, and they only managed to get some clarity after an intervention from Prince Andrew, who managed to encourage Warner to check their contracts.
Guy De Beaujeu of Fluidity Films told the Guardian: "We are literally about to sign the film rights, which were indeed lost. Prince Andrew's involvement forced Warner into doing some due diligence. They discovered that the rights had lapsed in 2008. Warner were not forced to give up the rights; they very kindly looked into them and found they did not hold them in the UK and Eire any longer.
"We've been chasing the rights for more than a year and it's taken that long to unravel the complexity of it. We thought they had been lost forever. I felt like it was such an important thing for the U.K. in the centenary that we should have the rights back."
The rights are due to be signed over to Fluidity today, with David Grindley, who previously led both the London and Broadway revivals of the play, taking the director's chair.
Guy explained why he felt Benedict and Tom are right for the film: "We feel that as one of the most significant anti-war plays ever written—Sherriff didn't see it that way of course—it's really important that we get the very best actors of their generation to take part. We want it to be as attractive to as many people as possible."
Attractive, eh? It's funny you should say that…
See more:
Five British Stars And Five Things They Should Give Up For Lent
Tom Hiddleston: "'Thor' Fans Think I Can Pole Dance"
Tom Hiddleston: "It's An Ambition Of Mine To Wear Jeans."
WATCH: Tom Hiddleston's Reaction to Pint-Sized Fans
Read More
Filed Under: