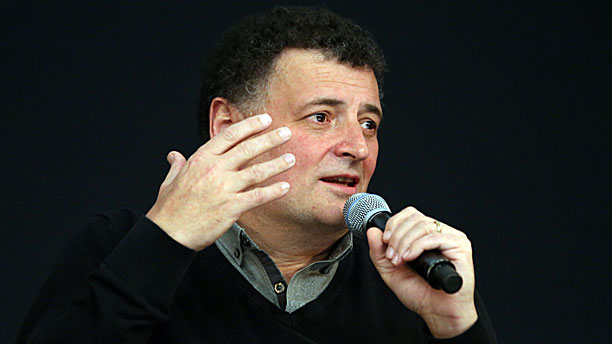 There's a good, short video interview with Steven Moffat over at the Guardian, filmed in the Speakers' Lounge at the Cannes Lions festival, in which he discusses the Britishness of the shows he works on, why that sensibility is key to their appeal, and his sense of vague unease when he sees an American show—like 24—pitching up in London.
While quick to say that he loves the show, he explained: "I want it to be away. I want it to be in L.A. I want him to run around saying L.A. things. I think a little bit of my soul died when Kiefer Sutherland said 'pub.' I thought 'no it's wrong! He should never say 'pub'!"
Describing his love of immersing himself in other cultures via their TV shows, he notes, "It's a cheap way of taking a holiday abroad, isn't it."
He also ascribes part of the success of 'Sherlock' to the unorthodox way in which it is arranged. Having made a star out of Benedict Cumberbatch and not-exactly-hindered Martin Freeman's career, he points out that any other TV show, arranged along more expected lines, would have lost one or both of them by now.
"Had we done the conventional form of a TV series, which is to do runs of six or twelve, it would be over by now without doubt, it would be finished, because they would never again commit that amount of time that regularly to a TV show, they just wouldn't, why would they do that?
"But given the strange form of Sherlock which is every two-and-a-half years we get together and we make three, means that it can go on for a very long time."
Watch the whole interview at Guardian.com.
See more:
Steven Moffat on Casting Benedict Cumberbatch, David Tennant
WATCH: The Russian 'Sherlock' Flashmob Extravaganza
Why 'Doctor Who' Didn't Show Christopher Eccleston In The War Doctor's Regeneration
'Doctor Who': Steven Moffat Explains The TARDIS On Trenzalore, Sort Of
Read More
Filed Under: