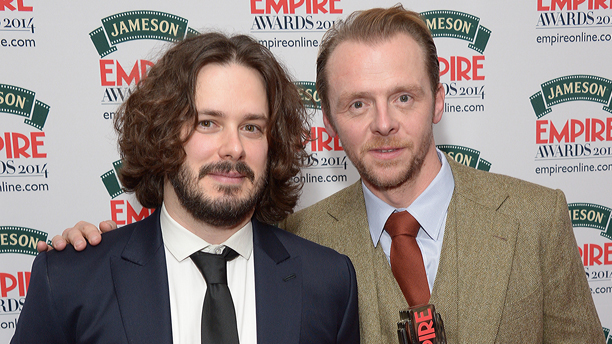 Director and screenwriter Edgar Wright (The World's End, Shaun of the Dead, Hot Fuzz) recently announced he'd be bowing out from the forthcoming Marvel movie Ant-Man, which he co-wrote with Joe Cornish and planned to direct. Friend and writing partner Simon Pegg (The World's End, Shaun of the Dead, Hot Fuzz) has come to Wright's defense, reports The Guardian.
Soon after the announcement was made Pegg tweeted his disappointment:
Feel lucky that I got to read @EdgarWright and Joe Cornish's Ant-Man script. Daring, fun, funny and hugely exciting. Shame we won't see it.

— Simon Pegg (@simonpegg) June 9, 2014
To backtrack, earlier this month Marvel and Wright released a vague statement saying: "Marvel and Edgar Wright jointly announced today that the studio and director have parted ways on ANT-MAN due to differences in their vision of the film."
As the days passed, it was revealed that Marvel wasn't happy with the script, which was complete, and re-writes were made without addressing Wright, according to The Hollywood Reporter.
That's where Pegg comes in. Sometimes it's easier to stand up for someone else than it is to stand up for yourself.
Pegg talked to Sky Movies expanding on his above tweet saying, "I think it's a terrible shame. I get why perhaps it's happened. Maybe they want a particular thing in line with a particular other thing, but if you hire a director who has a particular vision, you've got to expect him or her to make a 'such and such film'. 'An Edgar Wright film.'"
He went on to say, "That's what that script was, and it was interesting. The characters had a real journey. I can't really say too much about it because obviously it's not my thing, but it's their loss."
Peyton Reed (Yes Man) and Adam McKay (Anchorman) have signed on to direct and re-write the screenplay respectively.
Do you think Marvel should have kept Wright onboard? 
See More:
Simon Pegg: "I Don't Want To Be in 'Star Wars'"
Edgar Wright Posts "Embarrassing" Photo with Every 100k Twitter Followers
Edgar Wright Reveals First Image From 'Ant-Man'
Read More
Filed Under: