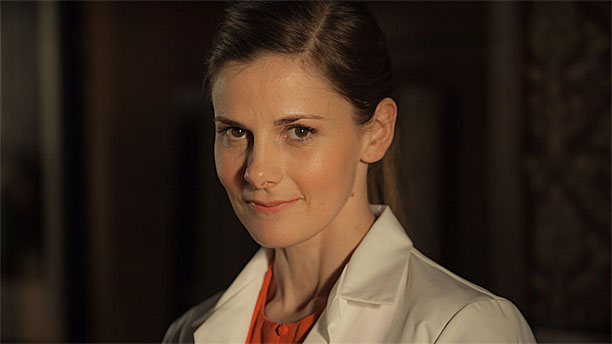 It's curiously fitting that an actress playing a key role in Sherlock—a drama that takes a Victorian work of fiction and places it in a modern day setting—should find herself playing a character based on real people from the age that gave rise to Holmes and Watson in the first place.
Louise Brealey, who plays the put-upon pathologist Molly Hooper in Sherlock, has been cast in the third season of Ripper Street as Dr. Amelia Frayn, who takes her place in a very specific moment in the advancement of medical science:
She told Radio Times: "I'm playing one of the first women doctors. I'm really excited because I did history at university and I love a bit of research. Elizabeth Garrett Anderson blazed the trail in the 1870s and in the intervening decade or so a few extremely intrepid and unusual women started learning to be doctors themselves."
Her character runs a clinic in Whitechapel, which means her costume is very different to that of her female co-stars: "I'm dressed very soberly and the other girls are all so ravishing. I'm like a little Jenny Wren. Literally, where are my pretty feathers?!"
She also revealed a particular bond with her co-star, Matthew Macfadyen. "He's so nice. Just lovely, funny and very kind. His family is from Northamptonshire, which is where I'm from, so we've had a Rose of the Shires bond."
Note: Rose of the Shires is an old and fond nickname for Northamptonshire, as is the county of Spires and Squires.
Read the full interview at Radio Times.
See more:
10 Reasons Why Steven Moffat's 'Sherlock' is the Best
WATCH: Louise Brealey of 'Sherlock' In 'Delicious' Trailer
Steven Moffat on Casting Benedict Cumberbatch, David Tennant
Personality Quiz: How Would You Die In Victorian England?
Read More
Filed Under: