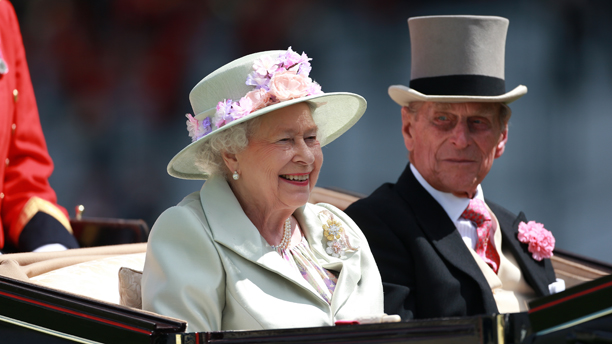 Things just got real over at HBO. Queen Elizabeth II and her husband Prince Philip, Duke of Edinburgh, are set to take a spin around the Belfast studios where Game of Thrones is filmed, during their visit to Northern Ireland next week, reports Entertainment Weekly.
While the Queen doesn't have her own Twitter account, which would be amazing, the British Monarchy does, announcing the visit with the below tweet:
As part of the visit to Northern Ireland The Queen and The Duke will tour the @GameOfThrones set in the Titanic quarter #Belfast #GoT

— BritishMonarchy (@BritishMonarchy) June 18, 2014
The Brit-filled show just wrapped up its fourth season and is currently on hiatus. While the cast has scattered for the summer, we're guessing someone will be on hand to receive the royals. Well, you'd think? It'll be interesting to see if any of the main cast members are able to make their way back to Northern Ireland for the visit.
The Queen's dance card is filling up for the summer; she's currently attending the Royal Ascot horse race, a five-day event. Her 2013 Gold Cup winning horse Estimate is scheduled to compete tomorrow.
If you'd like to follow the Queen's activities, you can check out the British Monarchy's Twitter feed here.
Do you think the Queen watches Game of Thrones?
See More:
WATCH: The TARDIS Receives Royal Visit, Prince Charles Does a Dalek Voice
Snapshot: 12 Vibrant Photos from Day One of the 2014 Royal Ascot
10 Lesser-Known Members of the British Royal Family

Read More
Filed Under: