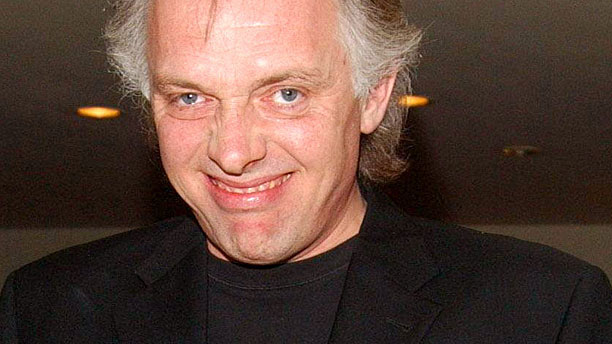 The comedian and actor Rik Mayall has died, aged 56. His manager confirmed the news earlier today, telling BBC News: "We are deeply saddened to announce the death of Rik Mayall, who passed away this morning."
No single figure better personified the explosive arrival of alternative comedy in the late '70s and early '80s than Rik Mayall. As co-writer and star of the BBC's riotous The Young Ones—alongside comedy partner Ade Edmonson, with Nigel Planer, Christopher Ryan and Alexei Sayle, he helped to bring the vitality, irreverence and black humor of punk rock to a mainstream TV audience—and became a huge star in the U.K. as a result. The British comedians that do not regard that show (and Rik in particular) as a direct influence are few and far between. The Young Ones were the comedy Sex Pistols, and Rik was Johnny Rotten.
At around the same time, he was appearing in the sketch show A Kick Up The Eighties as Kevin Turvey, investigative reporter from Redditch, near Birmingham:
Never short of a self-aggrandizing quip or a charismatic aside, he went on to upstage everyone in BlackAdder II (repeating the trick in Blackadder Goes Forth), starring as Lord Flashheart, and taking just three minutes to steal the girl, destroy a wedding and Elizabeth I's palace, shout a lot and manfully handle an appalling moustache malfunction:
Then there was The New Statesman, in which Rik played the self-serving Conservative Member or Parliament Alan B'Stard. There are entire episodes available on YouTube, but this outtake speaks volumes about his constant need to act up, in as charmingly gross a manner as possible:
At the same time as The New Statesman, Rik and Ade Edmonson were creating these insane sketches for ITV's Saturday Live, appearing as the Dangerous Brothers:
He played a variety of roles in The Comic Strip Presents, a series of one-shot comedies that included the Clint Eastwood parody "A Fistful of Traveller's Cheques" (see clip) and "Bad News Tour," in which he played heavy metal bass player Colin Grigson. The sequel saw the band genuinely playing on stage at the Donington Masters of Rock festival, and going down quite badly (on purpose).
He even got to star in his own movie, Drop Dead Fred, in which he appeared as Phoebe Cates' childhood imaginary friend. Still charming, still gross:
And then there was Bottom, his return to slapstick with Ade Edmonson. While still essentially the violent losers of old—pummelling each other with whatever household items came to hand—his character in particular developed a note of melancholy and life-weariness that echoed that of Tony Hancock, 25 years previously.
Most recently, he had appeared in a new sitcom called Man Down, starring as Greg Davies' embarrassing dad. Some things never change:
John Lloyd, producer of Blackadder, told BBC News: "It's really a dreadful piece of news. He was the most extraordinarily good actor as well as being an amazing stand-up comic. Apart from being great company, he was a great professional."
Little Britain star David Walliams was among those paying tribute on Twitter, saying, "I am heartbroken that my comedy idol growing up Rik Mayall has died. He made me want to be a comedian."
Edgar Wright added: "Shocked and saddened that a comedy hero is gone; for those who grew up on The Young Ones, Rik Mayall was one of funniest performers ever."
Now watch some of Rik's greatest hits on Hulu:
The Young Ones
The Comic Strip Presents
Blackadder
See more:
10 British Stand-Up Comics Whom Americans Should Know
Startling British TV Ads of 2011
Read More
Filed Under: