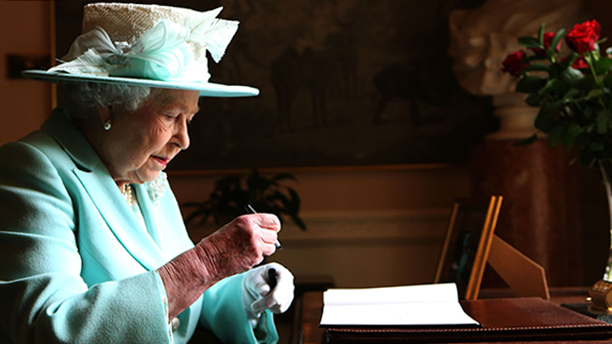 Queen Elizabeth II and her husband Prince Philip, Duke of Edinburgh, are doing the rounds in Northern Ireland having just made a visit to the Game of Thrones set in Belfast. This time, the couple will actually appear on the long-running BBC program Antiques Roadshow, reports BBC News.
The TV show came to the Queen, visiting her and the Duke at their home in Hillsborough, Northern Ireland, at Hillsborough Castle, just outside of Belfast.
We can only imagine the appraisers' excitement at what could be hidden away behind the castle walls. But we're guessing the experts invited into the castle—Hilary Kay, Paul Atterbury, and John Axford—were only allowed to look at certain items, versus having the run of the castle.
Take a peek at the bronze sculpture the Queen brought out for a look-see: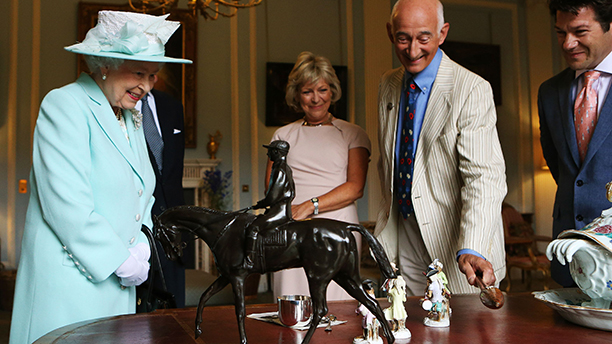 Hundreds of people gathered at Hillsborough, following the special taping, to have their own items valued. The royal couple's items were not given values. But, a similar statue by Pierre-Jules Mene was appraised at $20,000-$30,000 in 2004. 
The air-date has yet to be confirmed, but it's expected for later this year.
Do you want to take a guess at the value of the bronze horse and jockey? 
See More:
This is No Game: The Queen Meets the Iron Throne
Five Things That Happened In The Year The Queen Was Born
There is Nothing Like a Dame: Angela Lansbury Meets the Queen
Read More
Filed Under: