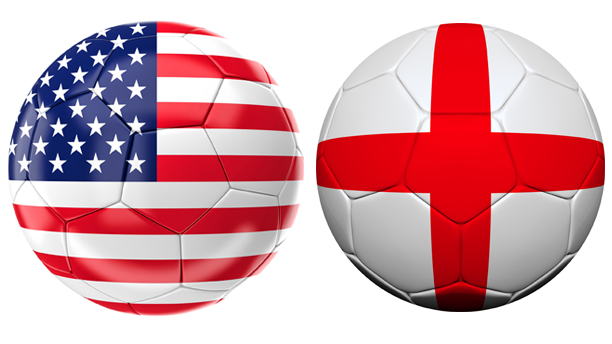 As far as World Cup draws go, both England and the U.S. have been dealt tough hands.  Here's a team-by-team guide to the two nations' groups:
Group D: England, Italy, Uruguay, Costa Rica
England: There is little doubt that Group D will be a tough test for England. Coach Roy Hodgson has selected a youthful, relatively inexperienced squad, only six of whom have played at a World Cup before. The weight of the country's hopes will fall heavily upon the shoulders of Scouse duo Steven Gerrard and Wayne Rooney. Both will be playing in their third World Cup, and for 34 year-old captain Gerrard, it will most likely be his last. Rooney, meanwhile, will be hoping to break his World Cup scoring duck of eight games without a goal. FIFA ranking: 10
Italy: Four-time world champions Italy comfortably qualified for Brazil with two games remaining. In order to get something out of this game, England will need to contain midfield maestro Andrea Pirlo and powerhouse striker Mario Ballotelli. Adding to England's already difficult task will be the tropical monsoon climate of Manaus, which could be particularly draining if Italy plays their possession game and makes England chase the ball for ninety minutes. The last time these two sides met at a major tournament was during the Euro 2012 quarterfinals. The Three Lions lost that game on penalties (inevitably) as Italy went on to eventually finish runners-up to Spain. FIFA ranking: 9
Uruguay: For a squad as rich in talent as Uruguay's, they made a real meal out of qualification. After finishing fifth in the South American table, they then had to beat Jordan in a two-legged playoff to be sure of their place in Brazil. In Luis Suárez, Edinson Cavani and Diego Forlán they have no shortage of firepower up front; however, defensive frailties were exposed during a qualification campaign that saw them concede 25 goals in 16 games. They are the current Copa América holders, reached the semifinals in 2010 and the last time a World Cup was held in Brazil in 1950, Uruguay won it. FIFA ranking: 7
Costa Rica: Costa Rica will consider themselves a little unfortunate to have been drawn in such a tough group, especially after they breezed through qualifying with a couple of games to spare. During that impressive campaign they won all of their home games (including notable victories over the U.S. and Mexico) and only conceded seven goals, giving them the best defensive record in the CONCACAF Hexagonal. Sadly, however, it does look as though Costa Rica will be the proverbial whipping boys of Group D due to the caliber of their opponents. When England play Costa Rica in Belo Horizonte on June 24, it will be the first time in history the two teams have met. FIFA ranking: 28
Group G: United States, Ghana, Portugal, Germany
United States: Drawn into "The Group of Death" (every World Cup has one), the U.S. will need to be firing on all cylinders if they're to advance to the second round. Coach Jürgen Klinsmann brings a wealth of World Cup experience to the helm; he played in three for Germany (winning it in 1990) and coached them to the semifinals in 2006. However, Klinsmann raised a few eyebrows by choosing to leave all-time USMNT leading scorer Landon Donovan out of his 23-man roster. The onus now will be on players such as Clint Dempsey, Michael Bradley and goalkeeper Tim Howard who will certainly have his work cut out. FIFA ranking: 13
Ghana: America let out a collective national groan last December when they were drawn against Ghana in Group G. The Black Stars have been the bogey team for the United States at the previous two World Cups, eliminating them in 2006 and 2010. This is a game that both sides will feel they can win, and how crucial those three points could be come the end of the group stage. FIFA ranking: 37
Portugal: While it would be unfair to label Portugal a one-man team, Cristiano Ronaldo is almost certainly the only reason they made it to Brazil. After finishing second in their qualifying group, it was Ronaldo's four goals in their two playoff games against Sweden that booked Portugal on the plane to South America. Ronaldo is arguably the greatest player of his generation (Lionel Messi causing said argument) and possibly even of all time, so stopping him will be key to the U.S. getting something out of this game. Portugal will enjoy the added bonus of home-like support given their Brazilian bonds. FIFA ranking: 4
Germany: The prospect of Jürgen Klinsmann taking on his beloved Germany is so mouthwatering it's enough to make you choke on your hot dog with sauerkraut. This German squad is laden with attack-minded players (they scored an astonishing 36 goals in ten qualifying games) and their midfield in particular is a veritable arsenal of offensive options, including Lukas Podolski, Bastian Schweinsteiger, Thomas Müller, André Schürrle, Mesut Özil, Mario Götze, Sami Khedira, Toni Kroos, Marco Reus and Julian Draxler. If there is a weakness—and that is a big if—it's possibly at the back. In a 4-4 qualifying tie with Sweden they surrendered a four-goal lead in the final 30 minutes, but this was the only blemish on an otherwise 100% record. FIFA ranking: 2
@MindtheGap_BBCA is live-tweeting England's World Cup matches, starting with England vs. Italy on Saturday, June 14 at 6 pm ET. Tweet along using hashtag #MindTheChat for a chance to win Doctor Who Season 7 on DVD.
How do you think England and the United States will fare in Brazil? Tell us in the comments below:
Read More
Filed Under: