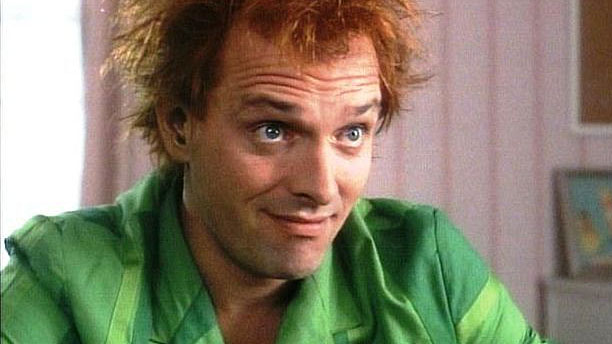 Amid all of the links and clips that have been shared by British comedy fans in the wake of Rik Mayall's death yesterday, there was a story that very few people were fully aware of at the time that has proven to be one final delight from a most delightful man. Let's call it Harry Potter and the Ghost of Irrepressible Giggles.
Yahoo Movies unearthed a behind-the-scenes interview Rik gave to promote the 2011 movie When Evil Calls: The Raven, in which he was asked which of his movie roles was a particular favorite?
(The full clip is here, and as you'll see, quite sweary)
His answer is at one and the same time entirely glorious and a little sad:
"I tell you, the best f**king film I've ever been in, not for the film, because the film, with respect… no with no respect at all… the film was s**t, I'll tell you why.
"A long while ago, all the kids at my kids' school were saying 'Hello Rik, have you read Harry Potter? It's fantastic.' I'd go 'what?' and they'd go 'Harry Potter, it's a book' and I'd go 'oh, er, of course I've read it,' which I hadn't."
"My agent said, 'Hey Rik, you want to be in Harry Potter?' I said, 'What, is it a book?'
"He said, 'It's a film.' I said, "Ah, it's my favourite book, course I want to be in it. I'd never read a word. He said: 'Alright, you're in it.' I thought, 'f**king cool. What's the money?' and she said 'it's alright'" (at this point Rik does the wobbly hands of balance).
"So I did it, I went and I f**king did it. I played the part of Peeves in Harry Potter. I got sent off the set because every time I tried to do a bit of acting, all the lads who were playing the school kids kept getting the giggles, they kept corpsing, so they threw me off.
"Well, they asked me to do it with my back to them and they still laughed. So they asked me to do it around the other side of the cathedral and shout my lines, but they still laughed so they said they'd do my lines with someone else.
"So then I did a little bit of filming, then I went home and I got the money. That's significant. Then a month later, they said: 'Er, Rik, we're sorry about this, but you're not in the film. We've cut you out of the film.'
"It was three weeks later, so I was in the film for around three weeks and then they cut me out. But I still got the money. So that is the most exciting film I've ever been in, because I got the oodle and I wasn't in it. Fantastic."
So somewhere there are outtakes from Harry Potter and the Sorcerer's Stone with Rik Mayall as Peeves, and had he been left in, he could have remained Peeves throughout the rest of the series. Director Chris Columbus cut the scenes because they weren't happy with the look of the mischievous poltergeist. But let's not be too sad, there's a coda to this that once again serves to prove what a loveable rogue the man was.
Having been sent tickets for the premiere, but finding himself unable to go thanks to touring commitments, Rik sent his family along, but had left out one key detail:
"I hadn't told my kids I wasn't in it yet, and they came back and they said: 'Bloody good make up. You didn't look like yourself at all dad.'
"They thought I was playing Hagrid, Robbie Coltrane's part."
"So that was the best film I've been in, because I wasn't in it, and it was crap. It was crap, because I wasn't in it."
See more:
RIP Rik Mayall: His Greatest Roles
10 British Children's Books That Every Older American Kid Should Read
Happy 24th Birthday, Emma Watson: Five of Her Most Startling Roles
Read More
Filed Under: