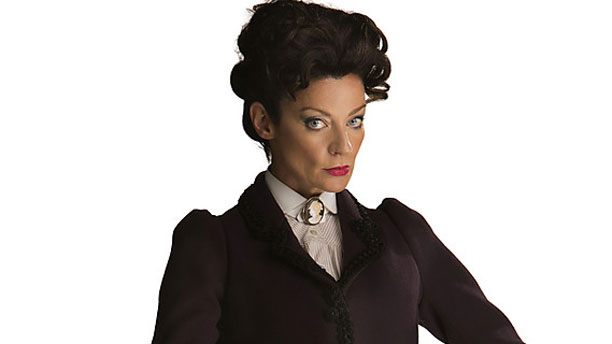 Fans of British comedy will be particularly excited by the news, released earlier today, that Michelle Gomez—star of the quirky hospital hit Green Wing—will be appearing in Season Eight of Doctor Who.
According to the official Doctor Who site, Michelle will be playing the part of the Gatekeeper of the Nethersphere, and she appears to be entirely smitten with the idea.
She said: "Well of course Peter Capaldi is our next Doctor, which makes complete sense. I'm thrilled to join him. Well, you would be, wouldn't you?"
Here's the full costume shot, which some fans have already approvingly noted is not unlike that of Mary Poppins:
Steven Moffat added: "I've known Michelle for years, and I'm thrilled to welcome her to Doctor Who. She's everything we need – brilliant, Scottish, and a tiny bit satanic."
Speaking of evil things, BBC One's Twitter feed had this backstage photo this morning too, showing Michelle, Peter and a nasty bunch of metallic rotters:
Peter Capaldi, Michelle Gomez and some familiar figures in a behind the scenes shot from today's #DoctorWho filming. pic.twitter.com/HDc5iOw19w

— BBC One (@BBCOne) June 30, 2014
What CAN it all mean? We'll find out from August 23.
See more:
'Doctor Who' Season 8 Premiere Date Revealed!
10 Classic 'Doctor Who' Characters Who Made a Modern Comeback
Who's Who: Who Wants To Hear Arthur Darvill Play Keith Moon?
WATCH: Peter Capaldi's Glorious Message to Glasgow Art Students
Read More
Filed Under: