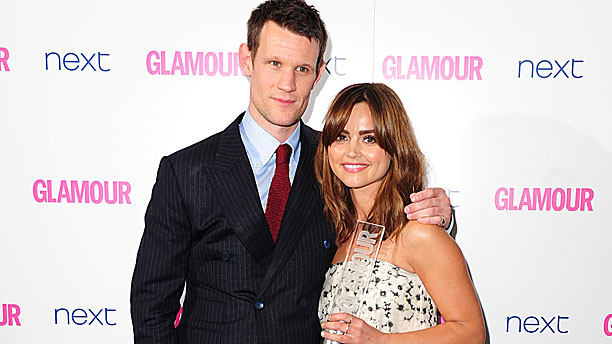 Oh here's a nice thing, of a piece with Matt Smith's recent reunions with Karen Gillan.
Last night, Glamour magazine held their annual Women of the Year awards gatheration, and Matt was on hand to present the UK TV Actress trophy. And the winner is… Jenna Coleman!
A well-deserved win that also creates a perfect opportunity for a couple of former work colleagues to catch up.
Other winners at the event included Jenna's fellow Whovian graduate Billie Piper (theater actress), Sally Hawkins (U.K. film actress), Helen Fielding (writer) and Dame Helen Mirren, who picked up the icon award.
Announced brilliantly by Ryan Reynolds as the "Dame of Thrones" (a quip worth its own trophy, surely), Dame Helen went on to issue the kind of blunt acceptance speech only an icon can get away with, only some of which we can tell you about here.
She did offer this note of solidarity with the women in the room: "There are a lot of really young women here who are very beautiful, incredibly talented, and I salute you and respect you all. I'm so proud to be a member of your sex."
And finished with a reassuring note for anyone worried about the diminishing effects of the passing years: "Your 40s are good. Your 50s are great. Your 60s are fab. And 70 is f**king awesome. I'm not quite there yet, but almost."
See more:
WATCH: Jenna Coleman and 'Doctor Who' Newcomer Samuel Anderson Have Shared the Screen Before!
PHOTOS: 'Doctor Who' Celebration Begins in London
WATCH: Matt Smith in the First Teaser for 'Lost River'
Where Can You See Your 'Doctor Who' Favorites This Summer?
Read More
Filed Under: