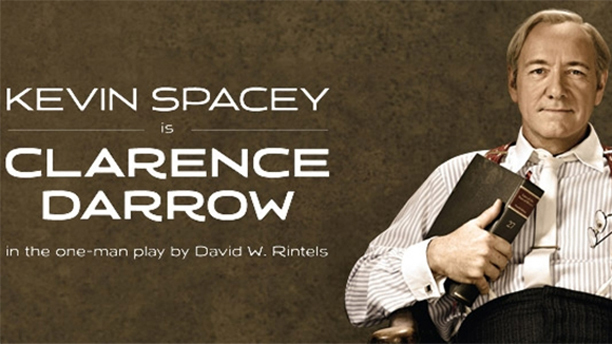 It's opening night at the Old Vic, and everyone is in a tizzy. Will everything go off without a hitch? How will the audience respond? Will a phone ring?
Self-proclaimed Anglophile Kevin Spacey stars in the one-man show Clarence Darrow at London's Old Vic, marking the end of his ten-year run as artistic director. Spacey starred in the 1991 film adaptation Darrow, telling the true story of the harrowing American civil rights lawyer, who was renowned for his captivating courtroom speeches. The film was presented by American Playhouse and aired on PBS.
There's a scene in the play where Spacey addresses the court. While Spacey is the only actor on stage, we can feel the stillness of the courtroom. The air is thick with tension, Darrow puts a lot of thought behind each word said, there's a lot riding on this argument … and then a ringer goes off.
A woman in the audience forgot to turn her phone off, or at least put it on silent.
Without missing a beat, or breaking character, Spacey addressed the woman saying, "If you don't answer that, I will."
The drama ends there. If Spacey actually did get on the phone, it'd be one for the books, but it would definitely interrupt the pace of the performance.
Spacey continued on with the play, delivering his lines, as if nothing was amiss.
The audience member now has a story for dinner parties, "Kevin Spacey spoke to me. To be honest, he politely chastised me. It could have been under better circumstances."
Funnily enough (maybe not so funny to Spacey), a similar event took place during Spacey's performance in Richard III in 2011, and he had a humorous reaction.
Sigh, it happens.
While the play just opened to the public, the performance has received early reviews:
Four stars for Kevin Spacey's barnstorming performance in Clarence Darrow http://t.co/LxyQ93BCbB

— Guardian Stage (@guardianstage) June 5, 2014
Despite the slight interruption, Spacey must be pleased with the end result:
Standing ovation from all the court. An intimate send-off for Spacey after 10yrs. Hard to imagine @oldvictheatre without him #ClarenceDarrow

— Ivan Radford (@iFlicks) June 5, 2014
And if you're interested in seeing the sold-out play:
How to get tickets to see @KevinSpacey in sold-out 'Clarence Darrow' at the @oldvictheatre http://t.co/KQJr43hND5

— Time Out London (@TimeOutLondon) June 5, 2014
Spacey steps down from his position at the Old Vic, passing on the reins to Matilda director Matthew Warchus.
Have you ever found yourself in a situation like this? 
See More: 
Dame Helen Mirren Sounds Off on Drummers During Her Stage Performance
Kevin Spacey Stars in Tribeca Film Chronicling Britain's Old Vic International Tour
Seven Mobile Phone Tips for Brits in America
Read More
Filed Under: