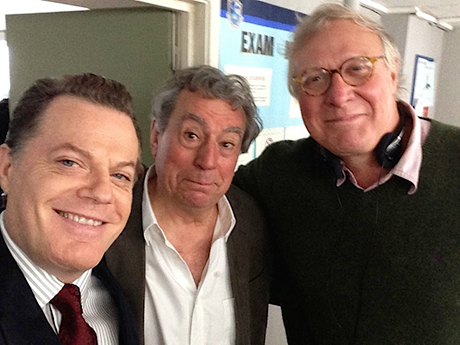 Most people couldn't name (let alone recognize) any successful screenwriters, and as for British ones, well, arguably only Richard Curtis is a household name. But there are plenty of other U.K.-born screenwriters making their living in Hollywood, and Gavin Scott is one of them.
Born in Kingston-Upon-Hull, he moved to New Zealand with his family at age 11 and, after studying history and political science at Victoria University, he traveled across Asia before returning to the U.K. He worked there as a reporter covering politics, science and culture for the London Times, BBC radio and television and Channel 4, but after nearly two decades as a journalist he decided to switch careers—and had a huge stroke of luck.
"The most amazing thing that happened in my career was being selected by George Lucas to become part of the team creating The Young Indiana Jones Chronicles," he says, which effectively got me into the business."
Scott's two earlier thriller novels, A Flight of Lies (about the hunt for the bones of Peking Man) and Hot Pursuit (about a Russian satellite that crashed in New Zealand), must have helped in their selection process, and saw Scott spending "weeks at a time" at Skywalker Ranch helping create the plots for each episode of the television series.
"It was a marvelous experience," he says, "and among the many brilliant directors George recruited to shoot the series was Terry Jones, who performed in and directed my story of young Indy's adventures as a spy in Barcelona, which starred Timothy Spall. Terry and I became friends and have continued to write together since."
Not long after, Scott decided to move out to the U.S. with his young family. While he has been lucky enough to work on projects that are European-based, allowing him to keep in touch with the U.K., he now lives in Santa Monica with his wife Nicola and three daughters Rebecca, Chloe and Laura, a singer/songwriter who recently received her first gold record for her work on the Twilight movie series.
But what exactly does a screenwriter do? There's some mystery surrounding how 120 pages of roller-coaster action, drama and emotion come to life. Cliché would have us believe that it's a life lived in coffee shops, making a skinny latte stretch as long as possible while stealing free wi-fi, but of course, the truth is very different.
Scott has his own regular weekday routine, which begins in the morning with half an hour's swimming, followed by the Times on his iPad over breakfast, and then walking to his "light and book-filled office" in his guest house.
"I stroll over there at 9 am and then I write—or research, depending on the phase of the project I'm in—until 12.30 or 1 pm, when I have lunch and a nap.," he says. Scott categorizes this nap as the most essential part of his day: "It actually allows me to have two creative blocks of time instead of one long one that dwindles down to inertia. I resume work about 3pm and can then go on as long as needed, though I usually pack up between 6pm and 7pm, when I go to the gym."
After the success of Chronicles, he was given the job of adapting classic British novel The Borrowers for the big screen. It starred John Goodman and Jim Broadbent and was released in 1997, by which time Scott was finding one of his oldest projects finally coming to life.
Small Soldiers, a dark animation/live action tale, was the first script Scott sold, and he had been writing it while commuting between the U.K. and the U.S. working on Chronicles.
"I had been working on the idea for years but was never able to find a story to fit the concept," he says. "But when I got an agent in L.A. and began pitching my ideas around the town, this one aroused enthusiasm. Nobody hired me to write the script, but I got so sick of talking up the story I decided it would be easier to write it than pitch it one more time. That said, I did get given some copies of the amazing line of toys they created to go with it."
Adapting sci-fi, fantasy and history stories has been somewhat of his hallmark since then, and he has worked on television movies and mini-series such as Jules Verne, Earthsea, and Emmy-winning Mists of Avalon, even taking the directorial chair for Treasure Island Kids: The Battle of Treasure Island, a family adventure featuring Randy Quaid.
Though he may not be writing movies starring George Clooney, he's a working screenwriter with a long list of international credits—and he's come closer to home again with his next script, something that may be his biggest hit yet.
Absolutely Anything is a story about a teacher who is given magic powers by some strange aliens, and fans of Shaun of the Dead and The World's End will be thrilled to learn that Simon Pegg is in the lead role as Neil Clarke – though perhaps not as thrilled as Pegg himself says on his website (www.simonpegg.net).
The cast also includes Kate Beckinsale, Rob Riggle, Joanna Lumley, Eddie Izzard, and the voices of Robin Williams and most of the Pythons. Scott joined his old friend Terry Jones as he was directing Absolutely Anything in London this spring, writing new dialogue as required and even appearing in the movie himself in his old role as a newsreader.
"As someone whose love of comedy was hugely informed by Monty Python, the chance to work with Terry was a gift," he says. "Meeting your heroes is one thing – working with them is something else."
Scott will return to England to research and write a series for U.K. television called Steam about the father-and-son team George and Robert Stephenson and The Last Summer, a thriller about how World War I began.
Continuing with the war time theme, Scott has yet another script idea: "I'm also hopeful Working Title will go into production soon on Dunkirk, a movie I wrote about the great rescue from France of Britain's doomed expeditionary force in 1940 and changed the course of World War II."
There's some more acting work too, as Scott takes on the small role of a billionaire ex-husband in Muffin Top: A Love Story, a comedy about the sexes written, directed and starring Cathryn Michon.
"Though I've never been professional, I have been acting all my life really," he says. "I acted in radio plays in New Zealand as a child, and as a reporter you are performing to camera or microphone."
Back in the world of books, he's completing a deal with a British publisher for a series of detective novels about an archeologist named Duncan Forrester, the first of which is set in 1946 and will be called The Age of Treachery. It's set to hit the book shelves next year, but for now, as a working screenwriter in Hollywood, what advice can he offer to anyone looking to break into the business?
"I can't stand either screenwriting advice books or lecturers, so my best advice is to watch as many great films and TV series as you can, read as much as you can, and write something five days a week. No sitting round waiting for inspiration—and no allowing yourself to get stuck: just plow on, get something down and come back and fix it later."
He does however insist weekends are for relaxation, spending time with friends and family and transforming his collection of old toys and games into "Wonder Cabinets," giant shadow boxes four foot high and three feet tall that use the toys to create new imaginary worlds.
"Some of the pieces have electro-mechanically operated tableaux and are inspired by the seaside entertainments which fascinated me as a child in places like Bridlington on the east coast of England," he says. (Some of these can be seen on Gavin's official website.)
He also moderates events like director and actor Q&A's for BAFTA LA, and it's here that he meets many of his fellow Brit screenwriters—both established and the new-in-town. He loves it when they "get together to chew the fat," adding, "I'm not surprised there are so many British screenwriters: we're a literary culture."
He loves hiking in Santa Monica mountains and walking on the beach, often listening on his iPod to BBC podcasts. "Wonderful Radio 4 was something I used to miss a lot before you could get it on the Internet," he says. But he admits that he would miss the English countryside and the architecture of England "terribly—if I didn't find every excuse to go back and work there and recharge my batteries."
The family still has a house in Twickenham and they visit the U.K. two or three times a year, including trips to see relatives in Hull, the city which will be the City of Culture in 2017.
"About time!" he says. "I had a very happy childhood in Hull. I grew up next to East Park and I loved the riverside of old Hull, which survived despite the Luftwaffe. And exploring lanes and alleys with names like the Land Of Green Ginger and Dagger Lane and visiting Andrew Marvell's school still there in the old marketplace. It's rich with history if you know where to look."
See more:
British Expat of the Month: Dave Parry of Chicago Tafia
British Expat of the Month: Fiona Bloom, Publicist Extraordinaire
Read More
Filed Under: