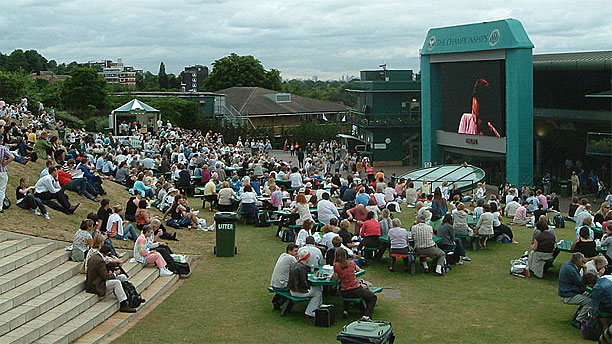 Wimbledon fortnight begins today, which means there will be a lot of talk from British broadcasters about whether Andy Murray can retain his title, a lot of talk about strawberries and cream, and a LOT of talk about Henman Hill.
For anyone without the deuce of an idea as to what or where this term refers, Henman Hill is a kind of grass amphitheater within the grounds of the All England Lawn Tennis and Croquet Club—the official name of the place where Wimbledon happens. It is just to the side of No. 1 court, which is the next best court to Centre Court, and there's a huge TV screen there for people to watch key matches while eating a picnic lunch or drinking an alfresco dinner.
The real name of the area is Aoraki Terrace, a throwback to the hill's previous occupants, the London New Zealand Rugby Club. They moved out in 1981, leaving the name as a tribute to Mount Cook in New Zealand, which was named Aoraki by the Māori peoples. Ever since Wimbledon took over, the area has been a perfect place for journalists to grab tennis fans for their immediate reactions to the results of the day, so it has taken on an unofficial status as a fan hub for the entire tournament.
So while it is named after a mighty slope that is hard to scale—Aoraki is the biggest mountain in New Zealand—it also acts as a repository for the eternal willing support of fans and supporters. What better metaphor could there be for the long, painful quest to find a local champion at the most celebrated tennis tournament in the world?
Enter Tim Henman, a handsome and gifted player whose attempts to secure the championship in the 1990s were thwarted at the semi-final stage four times. Tim represented British hopes for Wimbledon, and his fans could often be heard shouting encouragement, not just from the seats in Centre Court, but from the side of Aoraki Terrace too. No sentence carries more of the desperate optimism of the British tennis fans of the time than the heartfelt, pleading "Come on, Tim!" squealed between shots.
The press naturally loved this, referring to the phenomenon as Henmania and renaming Aoraki Terrace as Henman Hill.
The interesting thing is that other players, while equally talented and as likely to secure a win as Tim, have failed to secure as permanent a tribute to their efforts. Greg Rusedski, for example, may have enjoyed a short period during which Henman Hill was known as Rusedski Ridge, but it faded quickly. Similarly Laura Robson and Heather Watson have yet to secure Robson Green (a pun on the British actor Robson Green) or Heather Hill as permanent titles. Henman Hill endures.
Which just leaves Andy Murray. Surely, given his successes, he has a right to expect that area to be rechristened Murray Mound or Mount Murray? Well, Lord knows sports journalists have tried, but the answer is a bit yes and a lot no.
The thing is, Henman Hill is a permanent memorial to thwarted British hopes, and whether anyone likes it or not, Tim Henman is the man who carries that Icarus reputation. It's not an accusation of failure or any slight on Tim's abilities as a player, Henman Hill is likely to remain Henman Hill because it was christened in an era when the idea that a British player could win was considered a fond, preposterous dream at best. And those desperate hopes are the kind that die hardest, even when someone actually comes along and achieves them.
Plus, y'know, Andy Murray could lose. Then maybe it would be time for a rethink.
See more:
10 Great British Athletes Americans Should Know
Andy Murray Wins Wimbledon; First British Men's Champion in 77 Years
Mint Julep Day: Five Foods the British Only Consume Once a Year
Tim Henman Will Retire – Without a Wimbledon Title
Read More
Filed Under: