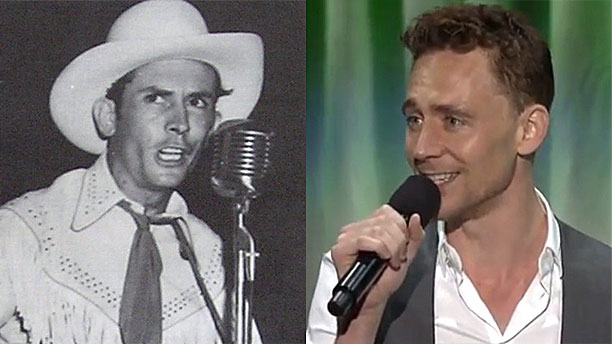 Oh now this is a very, very good idea indeed, is it not?
Yesterday, Deadline reported that Tom Hiddleston—of The Avengers and, y'know, Tom Hiddleston fame—has signed up to play the lead in I Saw The Light, a biopic of country music's primary catalyst Hank Williams.
Shooting starts in Louisiana in October, and Tom will be singing Hank's songs throughout. Because, as we all know, he can.
Marc Abraham wrote the script, based on Colin Escott's book Hank Williams: The Biography, and he'll direct it too. The movie will tell the tale of Hank's fame, his drinking, his troubled marriage to Audrey Sheppard, his chronic back pain, his drug abuse and his untimely death in the back of a car, aged just 29.
Oh, and not incidentally, his creation of what has to be one of the finest songbooks in all of popular music, from "Your Cheatin' Heart" to "Hey, Good Lookin'"
Here's Hank in action back in 1951, suddenly looking not unlike a country Loki, devilish smile, ostentatious getup and everything:
See more:
Tom Hiddleston and Benedict Cumberbatch Back in the Trenches for 'Journey's End'
WATCH: Tom Hiddleston's Reaction to Pint-Sized Fans
Tom Hiddleston: "It's An Ambition Of Mine To Wear Jeans."
Tom Hiddleston Sings His Heart Out as Young Captain Hook
Read More
Filed Under: