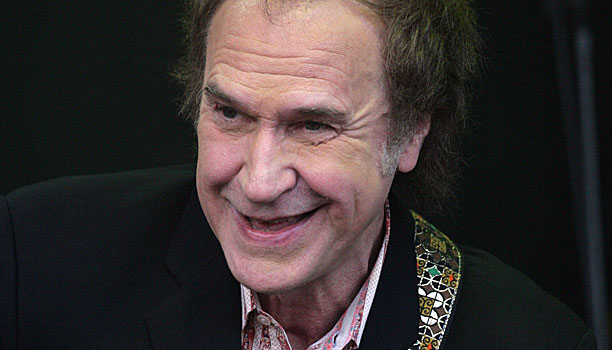 British music fans have a lot to thank America for, specifically in the case of Ray Davies of the Kinks.
Had the band not been banned for five years in 1964 for scrapping and acting up on their first American tour—just after their first flush of rude health with the thug-riff mania of "You Really Got Me"—Ray would not have started to explore the English themes that inform all of his best work in the 1960s. There would have been no "Sunny Afternoon," no "Dedicated Follower of Fashion" and no "Waterloo Sunset."
Without those kitchen-sink classics, it's doubtful a certain eloquent strain of British music would exist. Certainly it's hard to imagine the songs of XTC, Blur, Pulp, the Smiths, or even Arctic Monkeys without some of the weeds and undergrowth having already been cleared by Ray.
So, as he looks forward to finally taking his place in the Songwriters' Hall of Fame, later today, and as further rumblings from his eternal fraternal row with younger brother Dave suggest the band might be willing to consider working together again, let's look at five reasons why this investiture is long overdue:
"Waterloo Sunset"
Because it is flipping "Waterloo Sunset," that's all anyone needs. It's the idealized account of what London can be like, seen through the eyes of a native, and missing none of the vinegary details, like the dirty river and the dizzying crush of people on the streets. It's the closest pop music gets to the ideal of Romantic poetry—emotion recollected in tranquility—or in Ray's case, emotion collected from watching the world go past his window. And just listen to those angelic backing vocals. You don't get that with Wordsworth.
"Autumn Almanac"
People bang on about Bob Dylan as a lyricist, or Jim Morrison as a poet, but did either of them have the chops to make a line scan and scatter like these do?
"From the dew-soaked hedge creeps a crawly caterpillar,
When the dawn begins to crack.
It's all part of my autumn almanac.
Breeze blows leaves of a musty-colored yellow,
So I sweep them in my sack.
Yes, yes, yes, it's my autumn almanac."
And that's just the pastoral section in the first verse. After that it's a celebration of the community, of living where you belong, and of currant buns. Simple truths, elegantly spoken, and easy to whistle.
"Days"
Let's be clear, if you've written "Days" and you're not among the first 10 names on the list of an organization seeking to glorify songwriters, it's mark of failure on their part, not yours.
"Lola"
https://www.youtube.com/watch?v=Ixqbc7X2NQY
The incredible thing about "Lola," apart from the fact that it is incredible, is that this song marks a commercial upswing for the band after a short period during which their singles were slipping from the British charts. That the band's career received the shot in the arm it sorely needed with a song about finding true love in a seedy Soho bar with a beguiling transvestite is just one of those things that proves that you can't predict pop using the precedents of the past. And having an enormous singalong chorus never fails.
"Have a Cuppa Tea"
It may seem eccentric to have picked this one over, say, "Celluloid Heroes," "Come Dancing" or "Sunny Afternoon," but then it's a really eccentric song, written by a really eccentric songwriter, about the least possible of eccentric subjects. What we have here is an ode to the health-reviving qualities of Britain's favorite drink, sung as if by a country gospel band with a shaky grasp on their own accents. By comparison, the equally Anglo Mumford and Sons and their Biblical bluegrass songs about relationships seem almost humdrum.
See more:
Five Relatively Underrated Songs By The Kinks
Five Great British Gentleman Singers
Read More
Filed Under: