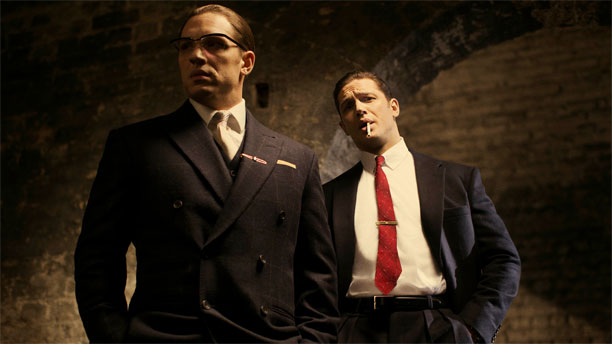 The best thing about this picture—which shows the ever-versatile Tom Hardy as both Reggie Kray, and his twin brother Ronnie—is that there are clearly two different people in front of us, despite the scientific fact that they are both the same guy. There's the sober, bespectacled Ronnie on the left, his cold countenance hiding a hot temper, and the flash Reggie behind, with a look on his face that suggests it's time you averted your eyes, assuming you're keen to maintain that nose between them.
This is the first image to be take from Legend, the second film retelling of the story of the Kray twins: notorious East End gangsters and club owners in swinging London. The last, from 1990, had Gary and Martin Kemp from Spandau Ballet playing the brothers, and it was surprisingly decent:
Not that Tom's playing all the parts, he will be joined by Christopher Eccleston, David Thewlis, Emily Browning, Chazz Palminteri, Tara Fitzgerald and Taron Egerton.
Both movies drew heavily from John Pearson's 1972 book The Profession of Violence, a history of the Krays and their rise to prominence within organized crime circles in London's East End, which also covered their eventual trial and life imprisonment in 1969.
Discussing his casting in April, Tom told BBC News he was most excited about finding a way to make the characters distinctive: "I've got to work out how to play both twins, which will be fun.
"It's another experiment and I'm really looking forward to it. I'm not going to put too much pressure on myself, I just want to have some fun and see what's out there and explore with the work."
Here's the actual Reggie and Ronnie, discussing a court case on British TV in the '60s.
See more:
'Locke' Director Wants 'Top Gear' Hosts to See His Movie
Rocket Bane: Tom Hardy To Play Lead Role In Sir Elton John Biopic
Tom Hardy is an Ace Guy, Grants Wish for Cancer-Stricken Young Mother
WATCH: Tom Hardy on Playing 'Grumpy' in 'Dark Knight Rises'
Read More
Filed Under: