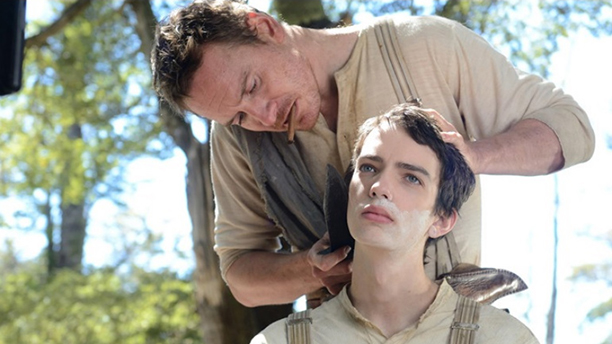 Michael Fassbender (12 Years a Slave, X-Men) reunites with BAFTA-winning director John MacLean, who directed Fassbender in the short film Pitch Black Heist, teaming up for the American frontier film entitled Slow West, reports Indie Wire. This is MacLean's feature film debut.
MacLean met Fassbender before the Irish actor was in the public eye, and the two have maintained their relationship, based on an interview Maclean did with Idol Mag. We had an inkling Fassie was cool like that, not forgetting his friends from before he was famous.
Fassbender takes on the role of a mysterious wanderer who goes by the name of Silas Selleck. He's accompanying a teenage boy, played by Australian Kodi Smit-McPhee (The Road), across 19th century America in search of a lost love.
If we didn't know Fassbender had befriended the young man in the film, the above photo might be quite alarming. Actually, it's still unsettling. The film is in the early stages, and this is the first still the studio has released. 
While it's based in the U.S., to get the untouched Wild Wild West feel, filming is taking place in the U.K. and New Zealand.
If you'd like to take a look at MacLean's earlier work, here is the trailer for 14-minute thriller Pitch Black Heist featuring Fassbender:
The release date for Slow West is scheduled for 2014, but yet to be confirmed.
Do you have a caption for the above photo? 
See More:
Snapshot: 15 British Celebs Looking Cool in Their Sunglasses
Battle of the Bromances: Fassbender and McAvoy vs. McKellen and Stewart
Michael Fassbender: Breakout Star or Just Another Talented Hunk?
Read More
Filed Under: