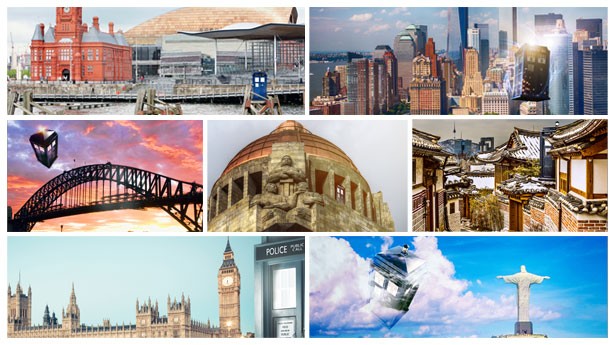 It's hard to think of a better way to drum up excitement for a new Doctor and a new season of Doctor Who than for that Doctor, his trusty companion, and his Executive Producer to go out and meet with legions of fans all over the world, just before his grand entrance on screen.
And that is what is happening in August. Starting on the 7th, in Cardiff, Peter Capaldi and Jenna Coleman—with the able assistance of Steven Moffat—will be touring the world (under the banner hashtag #DWWorldTour), appearing at seven different cities on five continents, to meet fans, chat to local press, and generally keep everyone buzzing over the arrival of the new Doctor.
The tour takes in South Korea, Australia, Mexico and the U.S., winding up in Brazil on August 19, and it's bound to be momentous.
An excited Peter Capaldi said: "It's fantastic that so many people across the world love Doctor Who. After 8 months solid filming deep in the world of monsters, Jenna and I are thrilled to be heading for the Planet of Fans."
Steven Moffat will be along for some of the ride (details of his appearances are still to be announced) and said this: "I've always thought we'd all be a lot safer if the Doctor conquered the world, instead of the Daleks. Now with Jenna and Peter leading the charge, it looks like it's going to happen. I'll be bringing up the rear to handle the exposition scenes, and maybe carry some bags."
Take a look at this video announcement, and marvel and just exactly how popular Doctor Who is, and where:
Richard De Croce, SVP, Programming for BBC AMERICA says: "It's a new beginning for one of the most popular series in the world and we couldn't be more excited to have the Twelfth Doctor live in New York to promote the long awaited return of Doctor Who on BBC AMERICA. It's going to be epic."
So that's Cardiff, London, Seoul, Sydney, New York, Mexico City and Rio de Janeiro sorted… here's what is going on in other parts of space and time this week:
• As part of the tour announcement, it was revealed that Season Eight will air on BBC AMERICA on the same day as it does in the U.K. Now all we need to know is which day.
• The covers of the new Titan Comics Twelfth Doctor series have been revealed and, well just LOOK:
• The Doctor Who Experience in Cardiff will close for six weeks this autumn and reopen in October, regenerated—with fresh kidneys of an attractive hue—and ready for action.
• Peter Capaldi's castmates in The Musketeers have been explaining to BBC AMERICA what happened when they found out he would be heading out of 17th century France and into the TARDIS:
And here they are singing his praises as a work colleague and true gent:
• Have you ever wondered how Doctor Who would look if it were an animated Disney flick? Well, artist Stephen Byrne has illustrated a Disney-inspired Who poster that features all thirteen doctors as well as Amy Pond. It kind of makes you wish this were a real thing. Check out his Facebook page for a larger version to wallow in.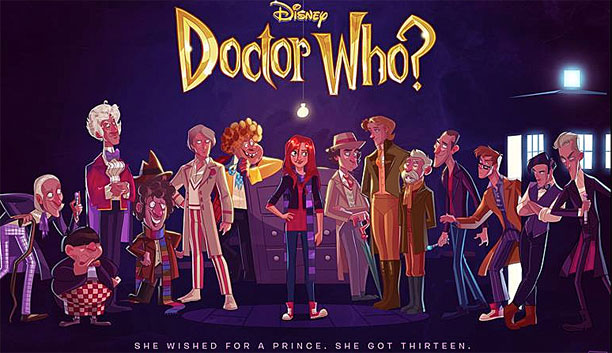 • The Sydney Morning Herald has published an interview with Terry Molloy, the man behind Davros. He reflects on the physical demands of wearing the Davros costume, and also reveals that he is learning to play Celtic drums (in his free time, that is; not necessarily in character as Davros).
• We all know young Lindalee from Beyond The Marquee Show by now, right? Well here's her latest vodcast about Doctor Who fan art:
• The Guardian's Jenny Colgan has written a post about the Fitzroy Tavern, a popular Doctor Who fan club meeting spot that is set to be closed down for renovations. In the '90s, you could have spotted the likes of Russell T. Davies, Steven Moffat, and Nicholas Briggs chatting about all things Who at the Fitzroy…oh, to be a fly on that wall!
Thanks to the resurgence of this GIF set on the Doctor Who Tumblr, it's about time to revisit the best of YouTube's Who-inspired desserts:
• Take a look at Jamie Oliver's TARDIS cake:
• And then treat yourself to CupcakeJemma's Dalek cupcakes:
Space and time never tasted so sweet.
• The first 20-second trailer for ITV's new show Chasing Shadows, featuring Alex Kingston, Reece Shearsmith and Noel Clarke, has been released. Take a look:
• Check out What Culture's list of the Top 50 Doctor Who Cliffhangers.
• And finally, let's go out with something a bit more soothing.
Radio Times has rounded up all videos of Doctor Who stars reading aloud for CBeebies Bedtime Stories. Go on, take that afternoon nap and enjoy a quick story narrated by David Tennant, Alex Kingston, John Simm, Freema Agyeman, or John Barrowman. Here's a taster:
TTFN!
Read More
Filed Under: