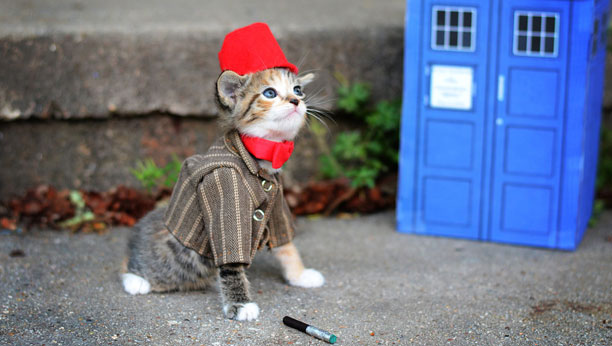 Last week, the website The Mary Sue put up a collection of the cat cosplay pictures of Wendy McKee. As you can see from the snap above, she has considerable skills in this regard, not least the getting of kittens to stay still while wearing a fez. No mean feat.
This set us wondering if anyone else had indulged in pet cosplay across the internet, and do you know, they have. They really, really have!
The Pet Collective ran a gallery last year, which included this remarkable image (by Iancmaltby)
Babble has a similar gallery, featuring this pug Dalek (by Manny/MyDesguises):
They also had this collection of pets that look like Doctor Who creatures.
And Allons-y Kimberley even gives instructions on how to make the perfect cat fez and bow-tie combo. Like this:
We have yet to find a dog dressed as one of the cat-faced Sisters of Plenitude, but that's probably no bad thing.
Here's what else has been going on in space and time this week:
• Peter Capaldi and Jenna Coleman will be embarking on a special Doctor Who world tour spanning five continents, seven cities, and twelve days, starting August 7! (Steven Moffat will be joining them on select dates.) "The tour marks the largest ever promotional undertaking in Doctor Who's 50-year history and will kick off in Welsh capital and home of the series' production, Cardiff, before taking in London (UK), Seoul (South Korea), Sydney (Australia), New York (US), Mexico City (Mexico) and Rio de Janeiro (Brazil)," says a press release.
Here's a teaser:
• Jenna Coleman won Glamour magazine's best UK TV actress award, presented by Mr. Matt Smith!
• Which led to this Jenna Coleman interview in Glamour magazine in which she says, "The scene of me on the back of a motorbike with the Doctor, driving past Big Ben – I've never felt more British in my life!"
• "Rise of the Cybermen" / "The Age of Steel" will be shown in U.S. cinemas next Monday, in a double-header with David Tennant-narrated Wings 3D! Click here for more information.
• The Doctor Who YouTube channel has created a Weeping Angels playlist. You can look, but make sure you don't blink.
• John Smith, the visual effects master and Doctor Who fan who created the Rain teaser trailer for Season 8, has released a breakdown of all of the visual effects he used:
• Foxes says she may release the song she will perform on Doctor Who as a single.
• BBC AMERICA's annual Comic-Con fan-art competition is now up and running! Click here to find out how to submit your artwork (videos too).
• During Houston's ComicPalooza Festival last month, former Doctors Colin Baker and Paul McGann appeared in a fun video in which they staged a fake phone call to the President at NASA's headquarters. The video also features some actors from 24 and Power Rangers and is a delight:
• The Irish Times interviewed Karen Gillan about moving to L.A. and some upcoming projects.
• A slightly beaten-up Christopher Eccleston appeared in the trailer for HBO's latest show The Leftovers:
https://www.youtube.com/watch?v=mN3aHP3lMl0
• Cavan Scott, co-author of Who-ology, has some enervating statistics for you:
• A fascinating interview with Sue Malden, unsung heroine of Doctor Who, whose archiving attentions at the BBC saved a good deal of the classic series from being entirely lost.
• Peter Capaldi has written a school report for the Doctor.
• How to draw the Eleventh Doctor:
• WhatCulture has compiled a list of ten reasons why the Valeyard is the perfect villain for Season eight.
• Another interview with Karen Gillan in which she says: "In the UK we're so saturated with American entertainment, we pick it up, and in the US they just have Downton Abbey and Harry Potter. Downton Abbey plus Harry Potter does not make for a good Aberdeen accent."
• Baking with the (Eleventh) Doctor by Thomas Rees-Kaye is all sorts of daft, but what an impression!
• Want to check out some of the classic series but don't know where to start? Well, try beginning where your favorite monster did, using our guide to their first appearances.
Let's end with something simple, but hypnotic. YouTuber Dave Clipson has made this Regeneration Cycle, morphing from one Doctor to another in order, and of course what it draws out is the similarities between the faces.
• Watch it once, and you see a seamless (ish) line between William Hartnell and Peter Capaldi in which hawklike noses and sharp eyes appear when you least expect them. Watch it a few times and you'd be forgiven for claiming a distinct family likeness between all twelve Doctors. Just remember to stop watching once in a while:
TTFN!
Read More
Filed Under: