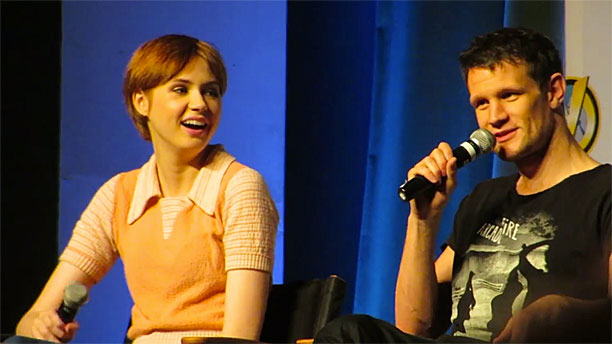 Over the weekend, Karen Gillan and Matt Smith met the Whovian hordes at the Wizard World Comic Con in Philadelphia. As we know, this is something the both of them are supernaturally good at, and there are a heap of interesting quotes from their joint Q&A currently whizzing around the internet.
Here are just a few examples:
• Matt on playing a Shakespearian role: "I'd like to one day. I'd quite like to play Macbeth."
Karen: "I want to play Lady Macbeth."
Matt: "Shall we do that together?" (cue whoops and applause).
• Other parts on their respective bucket lists include Batman, the Joker or the Riddler for Matt, and as for Karen: "I think I'd like to play a singer of some sort so I could tick that box. A famous real singer so it would be a biography."
• On what they looked like with their hair shaved off:
Karen: "I looked like the actual moon"
Matt: "I've got really big ears and I've always had longish hair so I was in deep panic. I looked like a fish with ears strapped on."
• Matt on the box of sonics:
• Matt on what his Doctor would have been like if he had decided to stay on: "He'd have become a bit meaner and a bit tougher. The universe would have weighed on his shoulders a little more which would have been cool. Damn. I should have stayed."
• Karen answering the same question: "Maybe there could be a series where we see Amy in therapy when she went through four psychiatrists. She's talking about the Raggedy Man and they're like, 'You're crazy!'"
Both of them on the suggestion they could have done a story where the Doctor and Amy swapped bodies:
And there are loads more of these adorable moments at pondsandbeyond's YouTube account.
And the highlight of the whole shebang? Whoopi Goldberg:
This casually happened… Also there was nothing casual about me in this moment. pic.twitter.com/AskbAm3Yez

— Karen Gillan (@KarenGillan2) June 23, 2014
Here's what else has been going on in space and time this week:
• Huge congratulations are due to Captain Jack himself, John Barrowman and Julie Gardner (former executive producer of Doctor Who, among many other things) who have both been awarded MBEs in the 2014 Queen's Birthday Honours List.
Julie said: "My proudest achievement has been to successfully bring Doctor Who to Wales. From there, through Torchwood, Casualty and Da Vinci's Demons, Wales' position in the global television industry goes from strength to strength."
For his part, John added: "I can't tell you how honoured I am to get this MBE, to be recognised by Her Majesty and also by the United Kingdom because that's where I can consider my home."
• Freema Agyeman has joined the cast of the Netflix original sci-fi series Sense8.
• Scroll and click your way through this interactive Doctor Who timeline, created by avid Whovian Sarah Bends. Videos and quotes abound in this interactive infographic that even responds to voice commands!
• Keeley Hawes (Line of Duty, Ashes to Ashes, Spooks) spoke to the Independent about her upcoming appearance as the cryptic Ms. Delphox in Doctor Who. She mentioned that Peter Capaldi's take on the Doctor is "just fabulous. I think everyone's going to love him." You know, just in case you weren't excited or anything.
• How to draw (and color in) River Song:
• Paul McGann shared that a sequel to the Five(ish) Doctors Reboot is in the works. He added that he'd love to see Tilda Swinton or Diana Quick try their hands at playing a female incarnation of the Doctor. Let the fanart begin.
• This interview with Doctor Who superfan (and soon-to-be guest star) Frank Skinner, in which he describes getting himself off the hook for missing his son Buzz's birthday while filming in this fine style: "I was doing Doctor Who. Anyway, the birthday greeting I sent him was a photo. It's of Peter Capaldi stepping out of the TARDIS holding up a sign that says, 'Happy Birthday Buzz.'
"I shall send him that every year for the rest of his life."
• Karen Gillan also wants to play a female Spider-Man.
• Karen Gillan's from the Scottish Highlands, and Peter Capaldi's from Glasgow. Their accents are just a couple of those performed by Siobhan Thompson in her tour of Britain in 17 accents for Anglophenia's YouTube series.
• Ready to reenact "The Time of the Doctor" on a smaller scale? Well, you can literally do this with this 5″ figure set from the Time of the Doctor, with interchangeable heads for the Twelfth Doctor, the Eleventh Doctor, and the older Eleventh, still battling away on Trenzalore.
• And finally, because it remains a magnificent thing, take a look at Peter Capaldi's video message to the students of The Glasgow School of Art, whose work had been destroyed in a fire:
TTFN!
Read More
Filed Under: