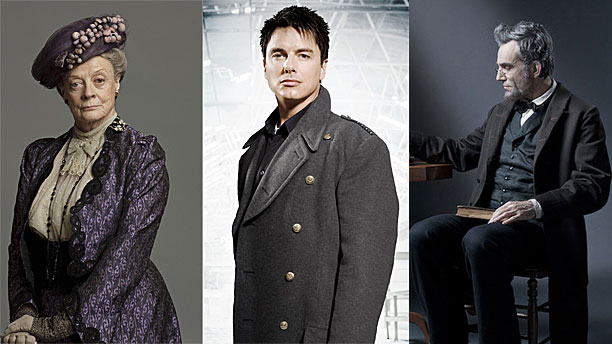 The Queen's Birthday Honours List was announced yesterday, and it seems we have a new theatrical sir to add to an already enormously impressive list. Daniel Day-Lewis is to receive a knighthood, putting the three-time Oscar winner on a par with Sirs Patrick Stewart, Ian McKellen and Kenneth Branagh. He is one of 1,149 people to receive an honour in the list, the overwhelming majority of whom are recognized for their outstanding work in their local communities.
Daniel told BBC News: "I'm entirely amazed and utterly delighted in equal measure."
Dame Maggie Smith has gone one better, however, and joined the rarefied Companions of Honour list.
Also from the world of theater, movies and TV, John Barrowman will receive an MBE (Member of the Order of the British Empire), as will folk musician Eliza Carthy, and Damian Lewis will receive an OBE (Officer of the Order of the British Empire).
His response is a little more unorthodox than tradition usually requires. He said "I decided to do the very un-British thing of accepting the compliment," having already thrown a cat at some pigeons by claiming that Americans "don't quite understand our honors."
Note: this assumes two things; one that British people are full conversant with the difference between MBEs, OBEs and CBEs and two, that America has no way of grasping the concept of people being rewarded for good work.
One American that is fast becoming conversant in the British honors system is Angelina Jolie, who has been made an honorary dame for services to UK foreign policy and her campaign to end the use of sexual violence as a weapon of war.
The accolade is in recognition of her work founding the Preventing Sexual Violence Initiative with British Foreign Secretary William Hague, and she was quick to play down her personal sense of achievement against the goals of her organization: "Working on the Preventing Sexual Violence Initiative and with survivors of rape is an honour in itself. I know that succeeding in our goals will take a lifetime and I am dedicated to it for all of mine."
The 2014 Birthday Honours List in full
See more:
Ten Great Britons Who Declined The Honours List
Personality Quiz: Which Famous British 'Sir' Are You?
Adele, 'Blackadder' and PJ Harvey Honoured By The Queen
What Are Classic Rock Awards Ceremonies For?
Read More
Filed Under: