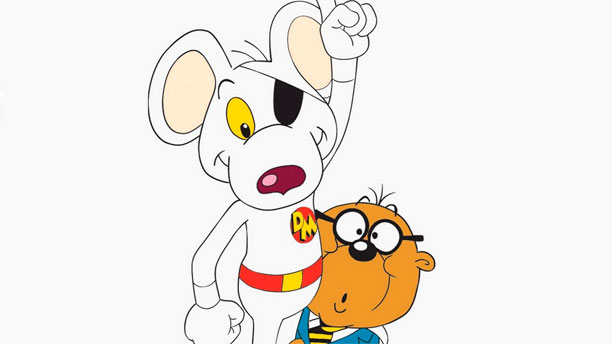 Paddington, Postman Pat, Bananaman, The Wombles, Thunderbirds, The Clangers… it seems there are very few characters from the first full flush of British children's TV that ever get fully put away in a drawer and forgotten about. And in the case of the anarchic spy cartoon Danger Mouse, even the death of one of the main voice actors—Terry Scott, who died in 1994, provided the bumbling jabber of Penfold the gerbil—hasn't diminished calls for a return to the fray.
So, heeding those calls, Children's BBC has commissioned 52 new episodes of this enormously loved cartoon classic, ready to air on British screens in 2015.
Details are still sketchy as to the voice talents that will be involved, and it's not known whether Sir David Jason will be back as Danger Mouse himself (and a selection of the wacky supporting cast), or who will play the evil toad Baron Silas Greenback, his hench-crow Stiletto, or the bluff Colonel K.
What we do know is that Danger Mouse still lives with Penfold in a red postbox in Baker Street, and that his eyepatch—hitherto only considered one of the unfortunate scars of his war against evil—will now be upgraded to an "i-patch". Which will definitely be useful if he has to do battle with any angry birds (like Stiletto).
CBBC controller, Cheryl Taylor, said: "Danger Mouse is the last word in debonair and delightfully eccentric heroics and with Penfold at his side the much-loved duo will win over a whole new generation of fans.
See more:
Five Great British Children's Filmmakers
Classic British TV Children's Characters Get Their Own Stamps
Now The Clangers Are Making A Comeback
WATCH: Funny Teaser Trailer For Aardman Animations' 'Shaun The Sheep' Movie
Read More
Filed Under: