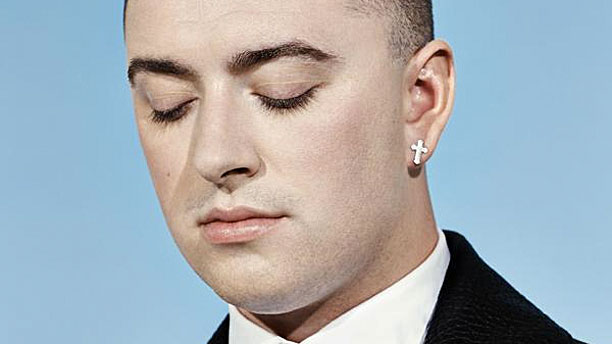 At the moment, pop music seems to be trying to work out whether it wants to be cool or hot, whether the dancefloor is full enough to perhaps try singing about things that are not dancing/you being a sexy girl, or to continue finding more extravagant metaphors describing the extent to which it is going down. Traditional acoustic instruments are being brought in to play over ecstatic EDM breakdowns, and the hoary old concept of credibility—the rock mythology that demands real talent, real instruments and real songwriters—seems like an impossibly heavy weight to drag into a party.
Enter Sam Smith. He's got the "singer who can really sing" thing nailed, specializing in a high, keening wail that implies total disquiet at all times. He's also appeared on several recent club classics, not the least of which was his debut, Disclosure's "Latch."
He's also the principal voice of Naughty Boy's "La La La" (weird kiddy samples notwithstanding), a fact that should demand a tour of a city of his choosing at shoulder height, if there were any justice in the world:
Speaking of which, not only did he win the Critic's Choice Brit Award this year, but he was voted top in the BBC's Sound of 2014 poll. Previous winners of both include Ellie Goulding and Jessie J, neither of whom are doing too badly for themselves. Oh, and Adele, whatever happened to HER?
Then there's the skippy statement of personal integrity in "Money on my Mind," a song that would be self-regarding tripe were it not for the astonishingly shrill/brilliant hook, the super-caffeinated beats and the fact that there really should be more songs suggesting that having money isn't the be-all and end-all:
But it's not all making ghoulish noises over the top of dance bangers: he also did this, and it seems to be doing rather well:
And if it's a compelling backstory you're after, Sam—third cousin to Lily Allen and her Game of Thrones brother Alfie—has admitted he has trouble with OCD—tweeting about it quite regularly—especially to do with water. He told 4Music: "I have to check taps… before I leave the house, to make sure I've checked everything in case it floods."
Having someone with Sam Smith's talent and profile discussing the occasionally debilitating effects of their own compulsions can only have a positive, normalizing effect, and when he sings about not having money on his mind, you know he really means it.
See more:
Personality Quiz: Which Member of the Who Are You?
Five Songs That Contributed to the Moral Decay of Great Britain
No Bowie, No Showie: The 2014 Brit Awards In Full
Down With The Gentrification Of Pop Music!
Read More
Filed Under: