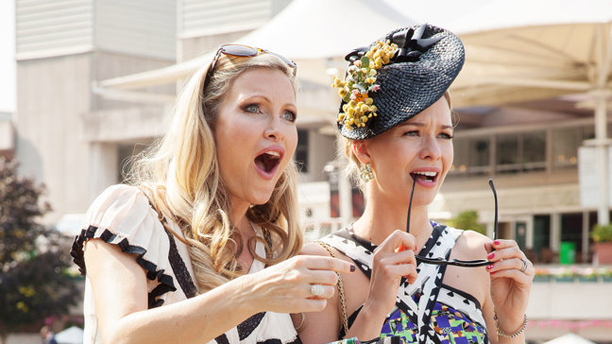 Bravo's Ladies of London premiered this past Monday, June 2, at 10pm Eastern Time. In true Bravo fashion, the channel has taken a group of women, both British and American, and thrown them into settings that most likely wouldn't have happened otherwise. The show revolves around four American women and two English socialites; all living in London. While the show just aired it looks like the Brits have the upper hand with the "home court advantage," taking digs at the Americans (who don't recognize a British reference as an insult). Tsk, tsk, that's not very welcoming, ladies.
You can add these other guilty pleasures to your summer binge list:
1. It's All About Amy
TOWIE's Amy Childs has graduated from the ensemble reality show, taking on the weight of her very own spinoff. Childs is an Essex girl, born and raised, and still lives at home with her mum. The show kicks off with her asking the age-old question, "Can shorts ever be too short?"
Watch It's All About Amy on Hulu.com.
2. Pulling
This scripted rom-com follows three women in their thirties who are living their lives with no apologies, even if they're expected to have everything figured out by now. In the first episode, Donna (Sharon Horgan) unexpectedly backs out of her engagement right before the wedding. She moves in with her two girlfriends, played by Spy's Rebekah Staton and EastEnders' Tanya Franks, enjoying the freedom of single life. After a couple of nights out on the town, Donna finds herself second-guessing her rash decision.
3. I Wanna Marry "Harry"
I'm going to apologize in advance for including this on the list, but it's too good not too. Of course, when we say good, we mean terribly awful. The series dupes 12 American women into thinking a Harry lookalike is the actual prince, sending the unsuspecting women to the U.K. to compete for his affections. It really cannot go up from there. The show is currently airing in the U.S. and U.K. It's definitely a conversation piece.
https://www.youtube.com/watch?v=MwhHVNuHdjM
Watch I Wanna Marry "Harry" on Hulu.com.
4. The Edwardian Country House
At first glance, you might think you're watching an episode of Downton Abbey or Upstairs, Downstairs, but not quite. The Edwardian House is a modern-day reality show in which participants live as if it were the early 1900s. Nineteen people, each assigned their social position, are documented living in a grand country house in Scotland. There are six episodes in the series with the third entitled "The Servants' Revolt". While the situations are obviously staged, since they're reenactments of earlier times, there still has to be some genuine reactions based on the roles everyone is set to play. Whether it's real or not, no one really likes to be bossed around (for three months).
Watch The Edwardian Country House on Acorn TV.
5. Desperate Scousewives
First things first, "scouse" sounds like a disparaging word, but it's slang for a person from Liverpool. People are proud to be called Scousers, as seen via the Facebook page called The Scouse Bible. Now that we've covered the terminology, back to the show … Desperate Scousewives plays off the name of the popular ABC show, but these ladies don't live on Wisteria Lane. The reality show is pretty much The Real Housewives of Liverpool. I love a Liverpool accent and could watch this on rotation all day.
Watch Desperate Scousewives on Hulu.
On a scale of 1-10, how guilty are you feeling? … I'm at about an 8. 
See More: 
Brit Binge Watching: True Life and Reality TV You Can View Online
Snapshot: 10 Stellar Selfies by British Celebs
10 British Things About Your U.S. City
Read More
Filed Under: