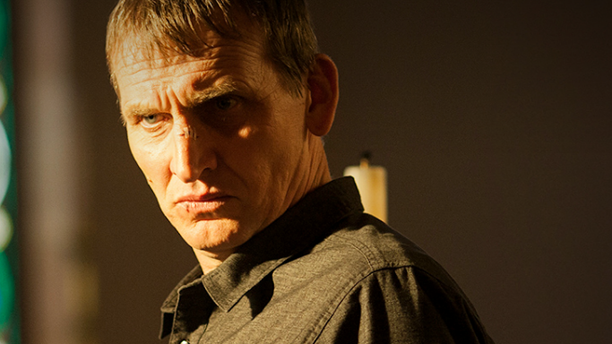 Doctor Who's Christopher Eccleston stars in HBO's new show The Leftovers, premiering on Sunday, June 29 at 10pm Eastern. In the show's trailer people are disappearing inexplicably. The series picks up three years later, and two percent of the world's population is gone. Eccleston's character preaches to the choir, advising community members to embrace the changes to come rather than dwell on life before "they" came. We don't know who they are just yet, nor do the people of Earth actually. The below films and TV programs revolve around post-apocalyptic life and those left behind:
1. Survivors
We all feel like dying when struck with the flu, but this time around the common ailment wipes out most of the population. A small group of survivors (Julie Graham, Max Beesley, Paterson Joseph) figure out what to do with themselves without electricity, running water or any sort of order.
2. 28 Days Later
An ominous virus spreads throughout the U.K. and four weeks later, things get a little freaky. There is a small population of civilians (Cillian Murphy, Naomie Harris, Christopher Eccleston, Brendan Gleeson) who have been able to avoid exposure and the mass destruction that followed.
3. Doomsday
An epidemic strikes, and what do the authorities do? They round up all of those who are infected, put them in containment, and leave them to die. Twenty-five years after the outbreak, the virus returns, and nobody wants to be put in a cell. A group of militants search for a cure by returning to the world they abandoned and face the survivors from the first epidemic. The film stars the late Bob Hoskins, Rhona Mitra and Malcolm McDowell.
4. The Deep
After a catastrophe above ground, a submarine crew finds themselves stranded underwater. A submarine can stay underwater for a surprisingly long time, but forever is too long. And, before the crew runs out of air, they'll run out of food. The mini-series stars Minnie Driver, James Nesbitt, and Orla Brady.
5. Outcasts
By 2060 the Earth has been used and abused, ultimately resulting in it being inhabitable and forcing humans to find another home. The outcasts seek refuge on a planet, accessible by a five-year spaceship voyage, where they have to start all over. The series stars Liam Cunningham, Hermione Norris, Amy Manson, Daniel Mays, and Ashley Walters.
What's first on your playlist? 
See More:
Brit Binge Watching: If You Like 'The Walking Dead' … 
Five British Areas That are Ripe for A Zombie Apocalypse
WATCH: British Directors Deliver a Zombie Film for Children
Read More
Filed Under: