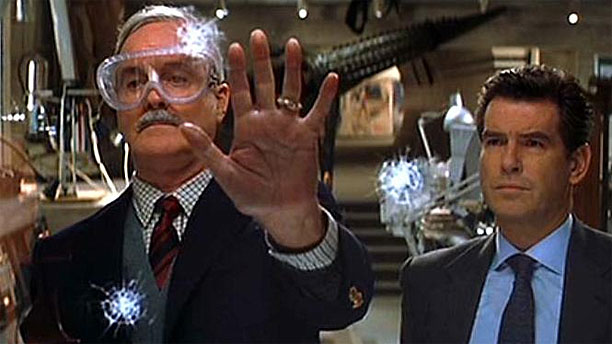 John Cleese is a forthright man, unafraid of airing his version of events that he has participated in and equally unafraid of the consequences.
So, his recent Radio Times interview, in which he explains why he appeared in two James Bond movies–The World Is Not Enough and Die Another Day—as the irascible but inventive quartermaster Q, is naturally fairly bullish stuff.
According to John, he was attracted to the role by the franchise's dry one-liners and good-natured ribbing across class barriers, and the chance to work with the original Q, the equally imperious Desmond Llewelyn. But a combination of factors—Llewelyn's death in 1999, and pressure John believes came from the movie backers to ramp up the action and tone down the silly—left him with very little to do.
He explains: "I did two James Bond movies, and then I believe that they decided that the tone they needed was that of the Bourne action movies, which are very gritty and humorless.
"Also the big money was coming from Asia, from the Philippines, Vietnam, Indonesia, where the audiences go to watch the action sequences, and that's why in my opinion the action sequences go on for too long, and it's a fundamental flaw.
"The audiences in Asia are not going for the subtle British humor or the class jokes."
Still the invisible car was cool, eh?
Sadly he did not go on to explain how he feels about the return of Q to the franchise, as played by Ben Whishaw, or whether there is enough subtle humor in a scene like this:
https://www.youtube.com/watch?v=SKyJ8AlT11M
And it should also be noted that Eon, producers of the Bond franchise, have yet to respond to John's comments.
See more: 
WARNING: Daniel Craig Wants To Bring 'Irony' Back To Bond
Idris Elba: "Don't Call Me The Black James Bond"
Eleven Fictional Characters Who Could Totally Be Time Lords
James Bond's Submarine Car Forgotten in Storage, Sold at Auction
Read More
Filed Under: