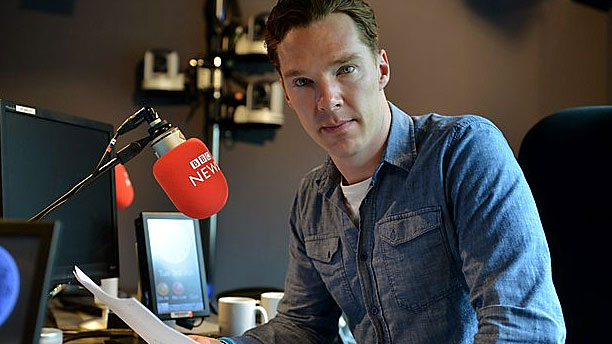 Remember a few days ago there were those enigmatic tweets from BBC Radio 4 about Benedict Cumberbatch being in their recording studios, and drinking mint tea? Well his reason for being there has just been announced.
All day tomorrow (June 6), BBC Radio 4 will be re-voicing the news bulletin scripts that were read out as the Allied forces landed in Normandy for D-Day, 70 years ago to the day. Benedict will be joined by Sir Patrick Stewart and Toby Jones to read bulletins within the station's usual news output, at the time at which they will have originally been broadcast, giving a unique insight into one of the most significant events in British history.
The selected scripts are part of over 200 pages of radio bulletins that the Radio 4 website are publishing for the first time. These contain notes and annotations by the original readers, including battle reports from the land, air and sea.
The re-recorded bulletins will continue across the weekend, as the landings continued, ending on Sunday at 9pm.
Here's a clip of Benedict's first recording:
Radio 4's controller, Gwyneth Williams, said this was an opportunity for listeners to experience "a day of deep significance; a day that carries, in memory, unimaginable burdens for a nation. I am delighted to offer Radio 4 listeners this opportunity to understand D-Day anew. And not just through the broadcasts but now, Radio 4, in digital times, can open its treasure trove of a website and bring original radio scripts to life, recreating that day in greater intensity and immediacy for a new generation."
To see the bulletin scripts, see the schedule of broadcasts and hear a longer clip of Benedict, and clips of all the readers, visit the Radio 4 website.
See more:
Tom Hiddleston and Benedict Cumberbatch Back in the Trenches for 'Journey's End'
WATCH: Cumberbatch Reads Kurt Vonnegut Letter
Benedict Cumberbatch On Theater, Hiddleston and O'Toole
WATCH: The REAL Sherlock Holmes!
Read More
Filed Under: