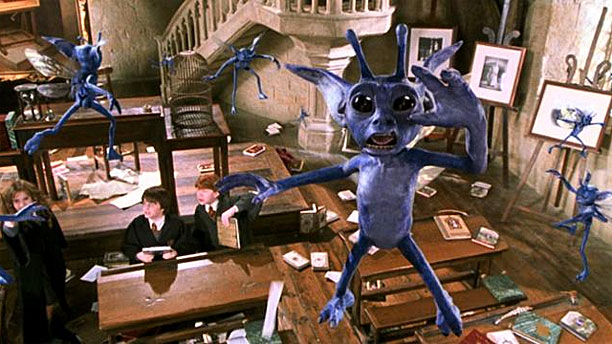 I know! Hasn't time just flown by since last year's Fairy Day celebrations? Some of us have only just got the dust and muck off our sparkly wands, and that was not without risk, bearing in mind their tendency to backfire messily. If I didn't know better, I'd suspect magical forces at work.
Still, here we are once more, wings a-tremble for the biggest day in the fairy calendar. Wands aloft, let's do this:
Pixies
These supernatural sprites go by many names—well, many spellings, including pixy, pixi, pizkie, pisky and pigsies—and are the subject of many fanciful legends, especially around Devon and Cornwall. The reason for this is simple: there are a lot of Neolithic sites in the West Country—stone circles, fugus, longbarrows and the like—and local folklore suggests that these are the best places to find a pixie or two.
There's even a Pixie Day in the Devon village of Ottery St. Mary, which takes place on the nearest Saturday to mid-summer (so, last weekend).
It's a commemorative recreation of the banishment of pixies (in Devon, it's more commonly pixies; in Cornwall, it's piskies) from the town to a cave called Pixies Parlour. This sorry exorcism happened originally in 1454, when bells were first hung in the Church of St. Mary, a Christian exercise that threatened the pixie way of life. On Pixie Day, which only got started in 1954, children dress up and 'capture' the town's bell-ringers, taking them to a specially-made Pixies Parlour. And then the vicar has to rescue them, there's a mock-banishment, and tons of fireworks.
Note: bad piskies—particularly in the West Penwith area of Cornwall—were called spriggans.
Tinker Bell
Not a pixie, no matter what the Disney movie may claim. Tinker Bell originally appeared in J.M. Barrie's play Peter Pan; or, the Boy Who Wouldn't Grow Up as a fairy who could mend pots and kettles. Her speech was always hidden by the sound of a little bell. So she's one of the bell fairies, who happens to be a tinker: hence the name.
Tinker Bell also epitomizes those other fairy values of capriciousness, mischievousness, extreme quickness to anger and sometimes spite, but also helpfulness to friends and loved ones. In the story, Barrie claims that, due to her diminutive stature, she can only handle one feeling at a time.
When asked to confirm whether or not this is the case she responded: "tinkletinkletinkleTINKLE!" and pulled a face.
The Púca
Also known as the pwkca, these are small goblin-type fairies, part of the Welsh Tylwyth Teg family of supernatural beings, and related to will o' the wisps. They hold a fire in their hands to lead unwary travelers to their doom in the middle of the night. Once attracted, these inattentive humans are guided through the darkness until they come to a chasm, with a river far below. At this point the púca jumps across to the other side, laughing and extinguishing the light as he goes and leaving his poor victims to fend for themselves. And what's worse, the light itself is said to be a portent of a funeral that will take place very soon.
Possibly as a result of falling down a ravine.
The Cauld Lad of Hylton
After a spate of supernatural happenings were reported in Hylton Castle, Sunderland, including a kitchen that tidied itself if messy, and messed itself if tidy, two theories passed their way into local legend.
The first concerns the Elizabethan stable boy Roger Skelton, who had either been caught in a romantic tryst with Baron Hylton's daughter, or was asleep when the Baron's horse should have been ready to leave. Outraged, the Baron either beheaded him or stabbed with a pitchfork—or both—and then threw him into a well. The Cauld Lad is said to be his ghost, haunting the castle until his body could find warmth in a consecrated grave.
Then there's the idea that the Cauld Lad is an elf held captive under a spell. If he is offered a present, like Dobby in Harry Potter, he can escape and get back to whatever it is that elves normally do, and so he causes disruption and chaos in the hope of attaining his freedom.
It's not know if either version is the true Cauld Lad, or if he ever got what he was after. But the castle is in ruins now.
The Cottingly Fairies
Whether this is a story of tricks in early photography or a childish prank taken seriously, the tale of the Cottingly Fairies is precisely as plausible as any tale of supernatural creatures, no more, no less. The story goes that two girls—Frances Griffiths (age 9), and Elsie Wright (16)—were playing by a stream in the Yorkshire village of Cottingly in 1917. Having been chastised for getting muddy, they claimed they went to the stream to play with the fairies, and the girls borrowed Elsie's father's camera to get some evidence.
The two pictures they came back with became a minor marvel among spiritualists, including Sir Arthur Conan Doyle, the creator of Sherlock Holmes. And they were encouraged to go and take three more, amid a great deal of fuss. There were claims and counter-claims. Experts said, among other things, that the pictures could not have been faked; that artistic Elsie had drawn and cut out paper figures and held them upright with hat pins; and that the long exposure meant that you could see that the figures had been moving, therefore they were real.
For their part, the girls maintained the pictures were not fake, or at least they did at first. By 1982 Elsie had admitted they were all fake, and Frances said that four were, but one was real. They both maintained that the fairies were there, even if the pictures were not real.
Read more, and see the photos at the Museum of Hoaxes.
See more:
From "Monkey Hangers" to "Spireites": Affectionate Nicknames for British Townspeople
May Day: The Hills Are Alight With the Fire of Beltane
British Good Friday Traditions: Pace-Egging, Toss Pot and St. George
Five British Easter Traditions That Will Surprise Americans
Read More
Filed Under: