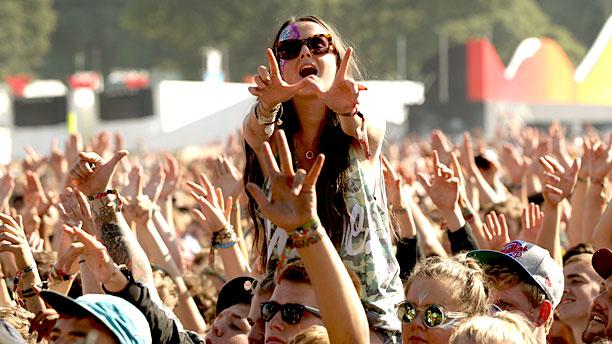 That's right, now that the tents are going up at the actual Glastonbury, we're off in search of regular alternatives to the ultimate alternative festival in Britain. Two more right-angle turns, and we're back in the middle of the road again.
Note: you may need to bear some of these in mind for 2015, what with the distances involved.
The Eden Project
If you're looking for a little hit of musical astonishment in a rural environment that will in no way spoil your shoes, Cornwall's Eden Sessions are the place to come. For starters, there's no camping: you're there to see an evening's entertainment just as you would be in a concert hall. Except the Eden Project is also a theme park devoted to horticulture by day, so while the music's playing, you have two enormous biomes behind the stage, and they get lit up as the sun goes down. Sometimes there are little mini-sessions inside the less-hot of the two biomes. And you can finds DJs around the food areas and even Eden's own choir up by the main entrance. So if you're a festival fan in a hurry, or just really specific about the music or comedy you like, come on down.
EDIT: Actually, it seems there IS camping.
Download
For a community that often likes to consider itself to be more open-minded and accepting of different points of view than the mainstream, indie fans can be preposterously picky about who they will allow to entertain them. Or rather, they're picky about the idea of a certain performer, until they are proven wrong, then they move the pickiness elsewhere. The booking of Jay-Z caused a kerfuffle in 2008 because he wasn't guitar music-y enough, and then he was great. Three years later, Beyoncé was too much of a pop star (and again, couldn't even play her own guitar solos while dancing and singing at the same time), and then she was great. This year, Metallica are playing, and now it seems there's too much guitars, and some ideological issues (James Hetfield enjoys hunting), and… well who knows what will transpire? So, the alternative to all this silliness is just to go to a metal festival—THE metal festival—where there are nothing but guitars, where arty pretentiousness is often greeted with a bottle of urine to the face, and where everyone is welcome (so long as they are metal, or possibly the right kind of hip hop/EDM).
Cambridge Folk Festival
For those music fans that like their vintages to be particularly vintage. Cambridge pre-dates Glastonbury by six years, and as it's a folk festival, performers are actively encouraged to play more than once over the three-and-a-half days and get stuck into some of the real ales and ciders on sale too. As well as bringing in the very best of British folk musicians old and new and encouraging them to cross-pollinate, Cambridge also spreads its net fairly wide when working out what does and does not constitute folk music, with past bookings for the likes of Joe Strummer and Chumbawamba. This year, Van Morrison and Sinead O'Connor are playing, which may not be the full Beyoncé in pop star terms, but there's always next year.
Bestival
Better than your average festival, as the name suggests. Bestival is a home-grown happening on the Isle of Wight that exists as an alternative not just to Glastonbury (it's at the other end of festival season anyway, taking place at the beginning of September) but also to the Isle of Wight festival, which can be a little obvious in its choices of performer. This year, while playing host to Outkast, Beck, Disclosure, London Grammar and Sam Smith, festival goers can also join Nile Rodgers in attempting to build the world's largest disco ball. It's that kind of an event.
Glastonbudget
Never mind that some of the finest acts in popular music are not currently touring, due to other commitments, a fading fanbase, financial trouble or a bad case of the being deads: at Glastonbudget, there's no such thing as an impossible booking. And that's because all of the acts are tribute bands. Which may sound like a duff deal, but consider this: not only do you get to (sort of) see impossible thrills like Queen or T-Rex live, there's the double fun of all of those punning band names. This year's festival includes performances from such greats as the Bootleg Beatles, Knotslip, Four Fighters and the Fillers. It's got to be worth the price of admission for those alone.
See more:
Why You Should Care About Sam Smith
15 Great British Tribute Band Names, And One We Made Up
Five Songs That Contributed to the Moral Decay of Great Britain
Down With The Gentrification Of Pop Music!
Read More
Filed Under: