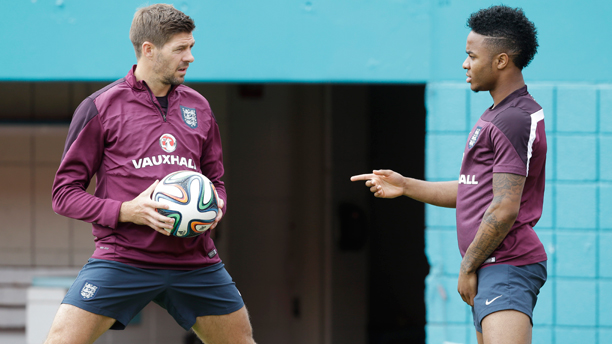 It has often been said that "Americans don't care about real football." Thankfully, this assertion continues to carry less and less weight these days. NBC's successful live coverage of every game during the 2013/14 Premier League season proved that football's reputation is growing in the United States. Thankfully for British expat soccer fans, an even greater level of coverage is expected ahead of the biggest tournament in world football: the 2014 FIFA World Cup.
Kicking off on June 12, the World Cup will be aired in its entirety on ESPN and two of its sister channels (ESPN2 and ABC). So for those of you with a cable subscription, you can catch every single game—including all seven of England's World Cup matches (it doesn't hurt to be optimistic, right?)—from the comfort of your own living room. And just in case you're as obsessed with football as I am, the same network is rolling out daily 24-hour news coverage, analysis and commentary of all the happenings from Brazil, via ESPN3 and WatchESPN.
Meanwhile, in what will likely come as a refreshing change for Americans and British expats alike, the matches will also be viewable live stateside at a reasonable hour this time around. In the years since the U.S. itself hosted the 1994 World Cup, football consumers across the nation have had to contend with impractically late (or early) kickoffs, with the last four tournaments being held in France (1998), Japan/South Korea (2002), Germany (2006), and South Africa (2010).
For the most part, Brazil's time zones are not wildly off balance with those of the United States (Alaska and Hawaii notwithstanding). Indeed, those of you on the east coast will be able to catch England's first group match against Italy starting at 6 pm ET on Saturday, June 14, while England vs. Uruguay kicks off Thursday, June 19 at 3 pm ET, and England vs. Costa Rica takes place Tuesday, June 24 at 12pm ET.
Those last two matches, of course, take place on weekdays, meaning that there's one thing not even favorable time zones can overcome: your job. Thankfully, if you're fortunate enough to have unrestricted access to the internet at your place of work, ESPN is your friend. In addition to its comprehensive television coverage, the network is set to stream all 64 matches live on WatchESPN.com (note: you will need to provide the login details that accompany your cable subscription).
And, because this is the 21st century, wholesale internet coverage means every match can also be watched on your smartphone or tablet. Indeed, if either of these are your prepared viewing method, ESPN is making all matches accessible via its WatchESPN app for iOS and Android.
At the end of the day, however, if you'd just rather watch the World Cup in a manner more befitting of the British way of life, there is no better place for revelry and live action than the pub. Thankfully the U.S. is replete with British-style establishments. That said—and this works in your favor when it comes to football—a not-so-authentic aspect of American pubs is their abundance of television screens. But even in America, pubs can become quite packed during a match—especially if that match features England or the U.S.A.—and multiple screens allow for easier access during those crucial 90 minutes of football.
Follow @MindtheGap_BBCA on Twitter, as we'll be live-tweeting England's World Cup matches this summer, starting with England vs. Italy on Saturday, June 14 at 6 pm ET. Join in using hashtag #MindTheChat for a chance to win Doctor Who Season 7 on DVD.
See more:
Football vs. 'Soccer': A Translation Guide for Brits and Americans
No, Arkansas Doesn't Sound the Way It Looks: A Guide to Pronouncing U.S. Place Names
10 Pubs in California You Should Visit
Read More
Filed Under: