If you find yourself craving the outdoors—whether it's under a canvas roof, renting a caravan, or the glamping experience—we have a list of options for you in England, Scotland, Wales and Northern Ireland.
1. Forest of Dean and Wye Valley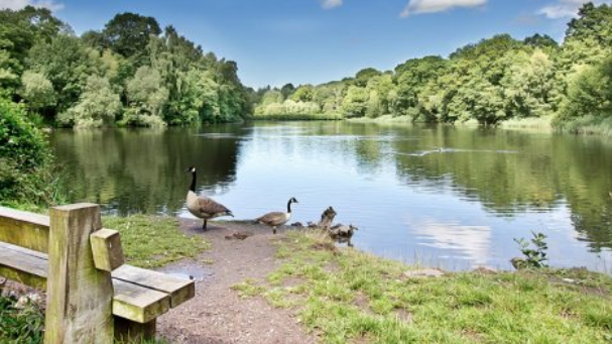 If the Forest of Dean sounds familiar to you, it appeared as a campground in Harry Potter and the Deathly Hallows, the seventh book in J.K. Rowling's series. Rowling grew up nearby and played in the woods as a child. The Forest of Dean borders England and South Wales, spanning three counties including Gloucestershire, Herefordshire and Monmouthshire. With so much land, you're promised your own private corner of the woods where you can set up camp, go boating, biking, hiking, zip-lining, and more. If you've forgotten something, you can head to the town of Coleford, which is close enough to walk (1.5 miles).
2. Wowo Campsite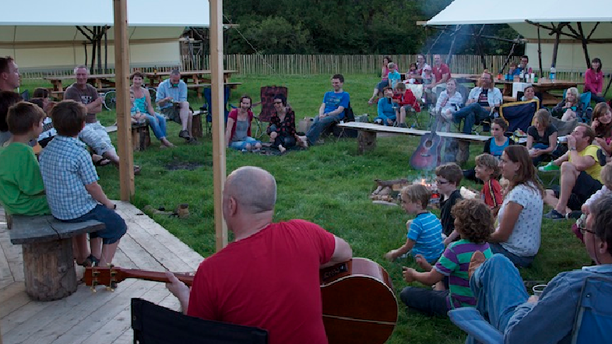 Wowo Campsite, located in East Sussex, is all about family and wellness. In addition to offering space to set up camp, the campsite hosts workshops and events to keep the mind busy while the body tires. Some people may like the idea of camping in theory, but once the tent is up, the sleeping bag is unrolled, what do you do? Wowo takes out the guess work with workshops like "Basketry and Wild Pottery with Wild Hands," "Foraging," and "Buscraft." Wowo even has musical entertainment like "Folk Night," and "Choir Round the Fire."
3. Ilanberis at Snowdonia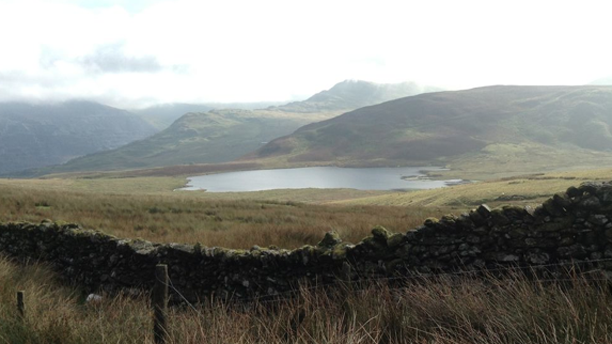 Snowdonia National Park, in North Wales, is home to Snowdon, the highest mountain in Wales and England. Llwyn Celyn Bach is a tents-only campsite, located on a working mountain farm, set 600 feet above sea level. With the campsite at the base of the mountain, you'll find yourself a quarter of a way up Snowdon mountain if you walk the Lllanberis path 20 minutes. This a "find your own pitch" campsite, and offers the basics in terms of toilets and washing up. There are no jamborees, but you will be one of the first in line for the longest zip-lines in Europe, at the top of Snowdon.
4. Eco Camping at Wild Boar Wood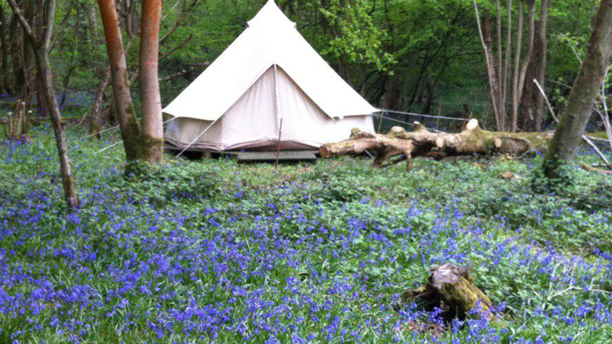 Things just got interesting … Eco Camp, located in West Essex, is so secluded that visitors don't even find out the exact location until they make their booking. Wait, is it okay to give out the address when we learn it? Like, if someone needs to come find us! Admittedly, I just watched the camping thriller Eden Lake starring Michael Fassbender and Kelly Reilly, and may not be the best judge. Moving on, this would fall under "glamping" versus traditional camping, with nine fully-equipped Bell Tents, set inside a five-acre woodland. The woodland is surrounded by 40 acres of nature, waiting to be explored.
5. The Park at Mawgan Porth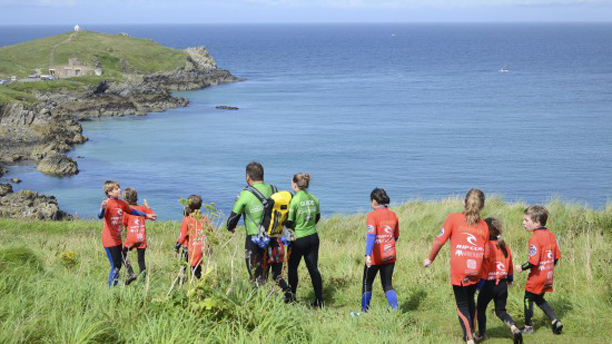 Cornwall, England, on the other hand, isn't so much a secret. You'll hit the famed holiday spot if you just head south and stop before you hit the Celtic Sea. Located on the North Cornwall coast, The Park at Mawgan Porth campsite has ample lodging including Mongolian yurts and retro caravans. The Park is a short walk to the beach and Watergate Bay, which is perfect for surfing. The leisure center—oh yeah, it's a posh campsite—has a heated indoor pool with a steam room and sauna. If you're not in the mood to cook your own food, you can swing by the cafe. Does this still constitute camping?
6. North Lees Campsite
North Lees Campsite is located in Derbyshire in the East Midlands of England, otherwise known as Pride & Prejudice country. The above video gives you a glimpse of the campsite, which occupies a gently sloping field, next to a stream. The campers find it peaceful and are getting their rope out, presumably for the steep cliffs of Stanage Edge. If heights aren't your thing, you may want to squeeze in a visit to Pride & Prejudice's Mr. Darcy's fictional home Pemberley, actually called Chatsworth House.
7. Kilbroney Park

Kilbroney Park, in Rostrevor, Northern Ireland, is a caravan and camping site, which is part of the Irish Caravan and Camping Council. The park backs up to a forest, which features riverside walks and an arboretum (fancy word for cluster of trees). A two-mile forest drive leads to Cloughmore or "the big stone", which sits at approx 1000 feet above Rostrevor. There is a children's play park and tennis court nearby.
8. Cushendall Caravan Park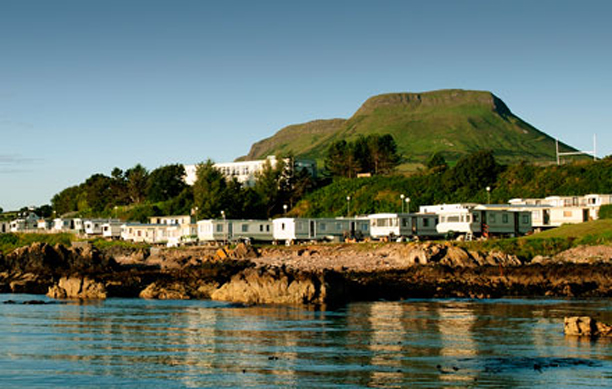 Cushendall Caravan Park, sits right on the sea front on the Antrim coast, in Cushendall, Northern Ireland. The caravan park is conveniently down the road from the Cushendall Sailing and Boating Club. It is Ireland, so it's not too surprising there are a few pubs in walking distance. Just to be clear, it's bring your own caravan (BYOC), so don't show up expecting to "check in," like some of the other campsites.
9. Red Squirrel Campsite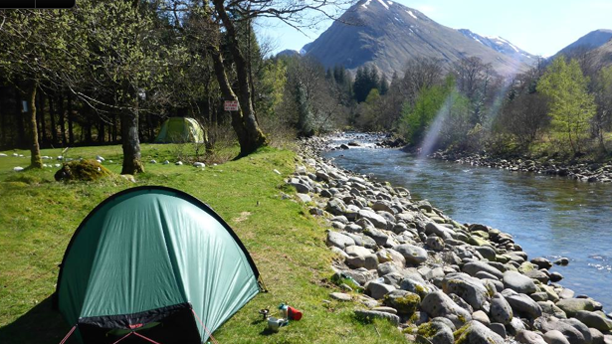 Red Squirrel Campsite, located in Glencoe, Scotland in the Highlands, is pretty much bare-bones camping. Even its website is no-frills, with the news section reading: "The mountains are still there," "The river is still there," "The trees are all still there," "And all is beautiful as ever." While the organizers are teasing a bit, their news updates sum up the camping experience like, "Bring your tent, supplies and enjoy the outdoors."
10. Loch Lomond and The Trossachs National Park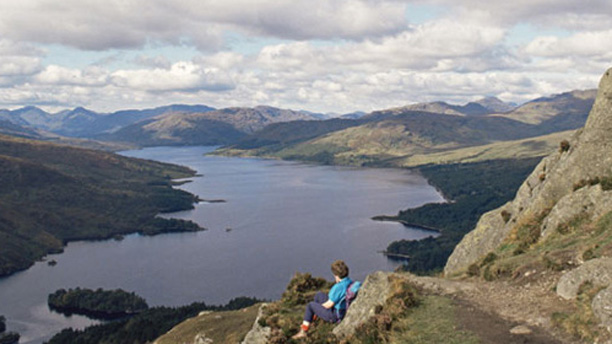 The national park has a few semi-formal campsites, mostly located on loch shores like Loch Lomond. The Forestry Commission Scotland runs the campsite at Loch Lomond, providing basic facilities. The park's real bragging rights are for its "wild camping." Wild camping permits people to enter the highlands, but no vehicles. In other words, you will be doing some hiking before your first sleep. This is for the serious camper.
Don't forget the marshmallows!
See More:
10 Reasons to Visit Wales: Zip-Lining, Surfing, Castles Galore and More
Snapshot: 25 Photos of British Seaside Towns
Brit Binge Watching: Five Travel & Adventure Series You Can View Online
Read More
Filed Under: