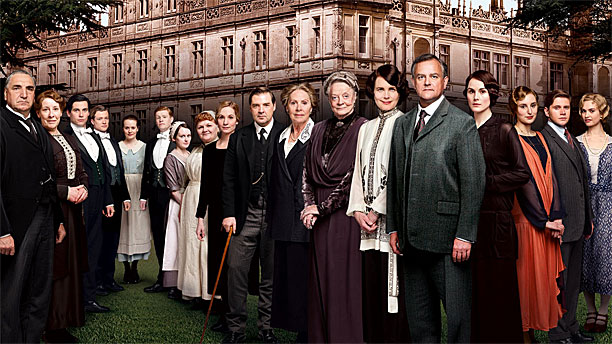 Lord Fellowes has waded into a transatlantic fan row over the scheduling of Downton Abbey, particularly over the way it tends to be shown in the U.S. some three months after it has first aired in the U.K., by which time Twitter and Facebook have been overrun with plot spoilers. All fans want to see the latest episodes of their favorite shows as soon as they're available, but as anyone at the Beeb can tell you, it's hard work getting everyone aligned, and that's why simultaneous transmissions are comparatively rare events.
He told the Telegraph: "I want to have simultaneous transmission in America and Britain. The difficulty that we have is that people are discussing the series as it happens online before America's seen it and on the internet we're all in the same company. It's madness."
Leaving aside for a second the sheer magnificence of plummy Julian Fellowes saying "on the internet we're all in the same company," it seems he would like to see the same approach to simultaneous broadcasting that Doctor Who uses, where programs air on the same day, and the social media spoiler gush can be avoided for a few hours, if necessary.
"The BBC have shown it can be done because they did it with Doctor Who so all this talk that it's impossible is wrong. I don't mean exactly the same time so people have to stay up all night but instead the same day in order for everyone to have a chance to watch it."
For their part, PBS, who air Downton Abbey in the States, say they welcome the gap between transmission as a way of driving up anticipation. Paula Kerger, PBS President, was asked this very question during a panel at the Television Critics Association press tour last year, and she said, "I think as we have looked at this whole issue of spoilers and thought about how best to steward the property and also think about the viewership, we considered a number of factors in the scheduling of Downton."
"The fact that word-of-mouth travels after it airs in the U.K. has actually benefited us… we kind of don't want to mess with that if it's working so well."
And this applies to Sherlock too: "We'll continue to look at each program as it comes up and then try to figure out if it makes sense to try to bring it very close to the broadcast window where it is seen everywhere else or does it make sense to schedule it at a different point and time."
According to Julian, this isn't a situation that will become magically solved with his input either: "I don't have enough sway to choose my own clothes," he joked. "It's what I'd like but who cares what I think?"
See more:
Round-up: 'Divergent's' Theo James Recalls His Quickie 'Downton' Stint and other 'Downton Abbey' News
Watch: Ellen DeGeneres Helps Minnie Driver Audition for 'Downton Abbey'
'Downton Abbey': Ten Predictions for Next Season
Recap: Big Relief! No One Dies in 'Downton Abbey' Finale
Read More
Filed Under: