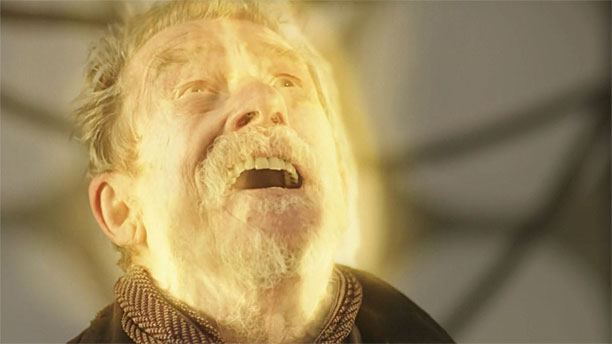 The Doctor Who 50th anniversary special "The Day of the Doctor" brought the two traditions of the show—classic and post-rebirth—together in a way designed to delight old and new fans alike. Thanks to the magic of TV production techniques, every Doctor of the previous 50 years came back to make an appearance, helping the Tenth, Eleventh and the War Doctor to save Gallifrey from imminent Dalek destruction.
But, given that Christopher Eccleston had opted not to take part, fans are still wondering how the decision was taken to include footage of the Ninth Doctor as part of that final hurrah, but not in the regeneration sequence. When John Hurt's War Doctor transforms into the Ninth, the camera cuts away before any recognizable facial features appear. Would it not have been possible to show both in some way, and create a full archive of regenerations for the Doctor?
Well according to Steven Moffat, it's simply a matter of respect for the actors involved. Answering readers questions in Doctor Who Magazine—the 473rd issue of which is out now—he explained that it was a very deliberate decision not to create a fake regeneration out of existing footage of the Ninth Doctor, because of his wish not to be involved.
"It was one thing to include [him] among all the other archive Doctors, as they flew in to save the day," he explained, "in fact, it would have been disgraceful to have left anyone out – but placing him in that scene might have given the impression he'd actually turned up for filming, which would have been crossing the line."
He added: "not taking part in the 50th was a difficult decision for Chris, taken after a lot of thought and with great courtesy, and not respecting his wishes would have been grossly unprofessional and disrespectful to a good man and a great Doctor. Number nine may not have turned up for the celebrations, but there would have been no party without him."
See more:
WATCH: Arthur Darvill Sings 'Let It Go' With 'Doctor Who' Words
Five Things That Happened In The Year The Queen Was Born
A Companion To The Ninth Doctor
How To Announce A New Doctor (Part 2)
Read More
Filed Under: