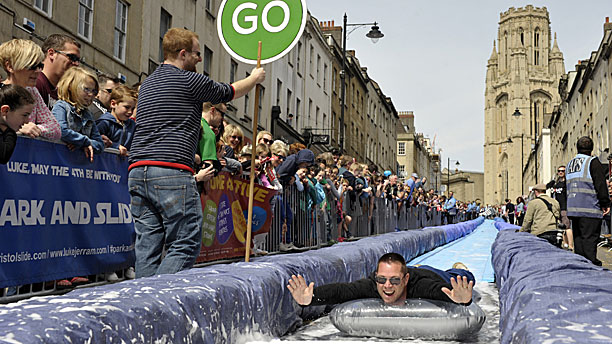 Did you have a nice weekend? Get up to anything particularly fun? Well, whatever you did, I bet it's not going to be as good as hurtling down a 300 foot water slide on a busy street in the middle of Bristol.
Crowds of people turned out yesterday to see the center of Park Street, a hilly shopping area, turned into a water slide—pleasingly named "Park and Slide"—by the artist Luke Jerram. 360 lucky participants were chosen from nearly 100,000 applicants, each getting the chance to ride down the slide—constructed from plastic sheets, some 400 hay bales, water and washing-up liquid—on an inflatable lilo.
Here's some footage of the event taken by SWNS TV, which possibly does not capture the full intensity of the ride experience:
Luke explained to BBC News that his inspiration was to take all the cars out of a busy thoroughfare and create a playful moment: "I wanted to close a road. If you look at photographs in the 1900s you see these beautiful empty streets with all the kids playing out.
"It's an extraordinary thing and all that has been taken away. I'm happy to take over a street, and this slide is an architectural intervention really."
A series of similar events is planned under the banner Make Sunday Special, to encourage cultural gatherings across the city, in areas that are normally choked with traffic.
See more:
It's Official: Stonehenge Is Part Of The Longest Settlement In British History
May Day: The Hills Are Alight With the Fire of Beltane
British Good Friday Traditions: Pace-Egging, Toss Pot and St. George
Five British Easter Traditions That Will Surprise Americans
Read More
Filed Under: