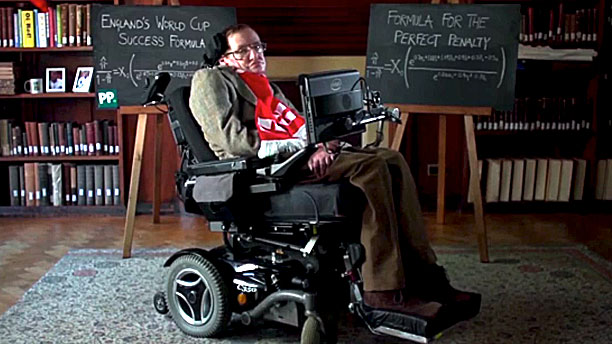 The toughest thing about writing an Anglophile blog is finding an appropriate space for the things that are hugely popular in Britain, but mean far less in the U.S., like football. We can't even call football football because football is football, so football has to be soccer and it's not called soccer in the U.K., it's called football.
Thankfully, there are moments like these, when internationally prominent Brits who are not David Beckham come forward to speak for the beautiful game (that is not chess), especially with a World Cup just around the corner.
So hats off to Paddy Power for encouraging Stephen Hawking to crunch some numbers with regards to the England squad's chances of success in the tournament. It seems a red kit will be statistically more likely to lead to success, as would using a 4-3-3 formation instead of the popular 4-4-2.
Watch and learn:
Mind you, it's a slightly flawed premise, given that he is only looking at statistics from the years between 1966—the last and only time England won—and now.
Almost all of the data comes from a unsuccessful attempts to win the World Cup, so while following his advice will optimize the team, it will only be to the best performance of a non-winning squad. Really what is needed are the stats for a team that has won a number of times, like Brazil or Italy, but that seems somehow unpatriotic.
GO SPORTS!
See more:
Eddie Redmayne Set To Play Stephen Hawking
Supersizing Soccer: What Britain's Premier League Could Learn From U.S. Sports Culture
WATCH: How To Hum Quantum Physics, With Stephen Hawking
David Beckham, Wayne Rooney and Other English Football Greats Get Immortalized as Edible Art
Read More
Filed Under: