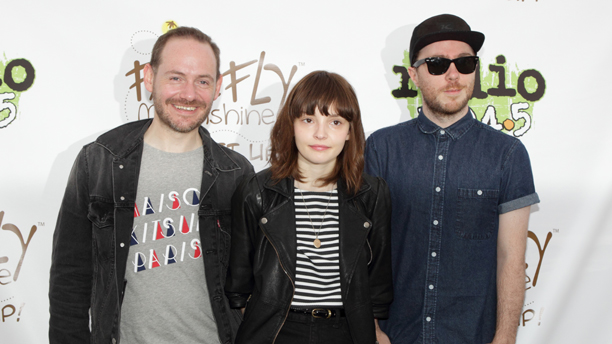 It has been a long but rewarding year for CHVRCHES, the Scottish synthpop outfit whose early singles "Lies" and "The Mother We Share" garnered them much attention. In September 2013, the group finally released their debut album, The Bones of What You Believe, to overwhelming critical acclaim. Comprised of Lauren Mayberry, Iain Cook, and Martin Doherty, CHVRCHES have since been bringing their personal brand of energetic, catchy electronic music to audiences worldwide.
The three artists reflected on audience reception since the album's release and its impact on their performance. "We've noticed a definite level of emotional investment, which has been so encouraging," said Doherty. "Any show that we've done on this tour, when you see people that have paid money, that have invested time and emotion in what you're doing, it immediately charges you up for the show."
As for what's to come, the band members all agree that they would like to delve deeper into the songwriting process for their sophomore album, experimenting with different sounds while also stripping away any superfluous elements. Having had full creative control over their debut, Cook notes "the production should only ever support the songwriting process and never get in the way of the song. We're going to focus on distilling and perfecting in the second record."
After what they've accomplished in such a short period of time, anticipation is high to see what they will produce next.

Watch our interview with them in which they discuss touring, Glaswegian slang that Americans won't understand, and why they're excited to see their hometown boy Peter Capaldi take on Doctor Who.
See more:
20 Greatest British Songs of 2013
WATCH: Tilda Swinton on 'Doctor Who': 'Long Live the Doctor'
'Doctor Who' and 'Broadchurch' Win at the BAFTA TV Awards
Read More
Filed Under: