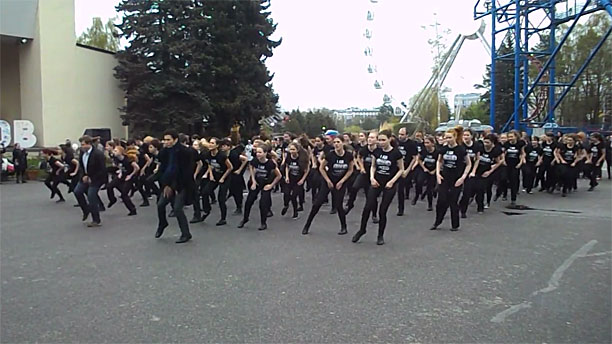 This is, by some distance, the most astonishing video we've had the pleasure of showing off for quite a while.
It seems that, as with all right-minded nations, Russia is more than a little partial to Sherlock. So much so, in fact, that over the weekend (yesterday, in fact), a pack of fans took to the streets of St. Petersburg to enact a flashmob tribute to their favorite show.
It's about 10 minutes long, you'll get to see some re-enactments, a Holmes, a Watson, an Adler, a Moriarty, a lady in pink, and a mini-army of Russian recruits wearing "I am Sher-Locked" T-shirts and doing a synchronized dance. With a prominent place reserved for Andrew Scott's voice, and Moriarty's ringtone: the Bee Gees' "Stayin' Alive."
https://www.youtube.com/watch?v=odoCi3DZgGE
And again from another angle, in another location:
For more pictures and videos from the event, check out the group's page on the social media site VK.
Your move, international fandom!
See more: 
Laura Linney Joins the Cast of Sir Ian McKellen's 'Sherlock Holmes' Movie
WATCH: 'Sherlock's Mark Gatiss Makes His 'Game Of Thrones' Debut
Martin Freeman Teases A One-Off 'Sherlock' Special
Benedict Cumberbatch To Play A Rival 'Richard III' To Martin Freeman
Read More
Filed Under: