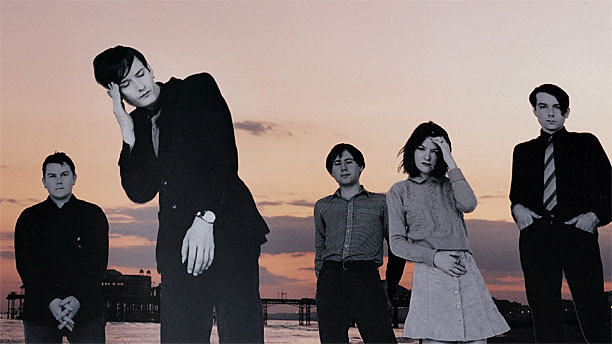 Yesterday, the trailer was released for the new documentary Pulp: a Film About Life, Death and Supermarkets, in which one of Britain's finest bands gets back together, goes on the road and plays some very emotional shows, not least in their hometown of Sheffield.
Pulp being the awkward cusses they are, the movie also features input from people who are not only not in the band, but in some cases have little idea who the band are, just to provide some context as to who they are and where they came from:
But they're not the first band from the Britpop era to put aside their differences and get the show back on the road with a camera crew in tow. In fact there are enough reunion documentaries from bands of the mid-'90s to warrant it's own genre title; something snappy like Britpoprockdocs, probably.
Here are some examples.
Blur: No Distance Left To Run
There's nothing more touching than the eventual resolution of a tale in which strong bonds of friendship are torn apart by the pressures of substance abuse and skyrocketing success, and that's what happened to Blur. No Distance Left To Run is the template to which other reunion documentaries adhere, in that it could only have happened after those wounds had been allowed to heal, and the four members of the band felt able to discuss their rise and fall with full candor, amid sparkling new live footage of the rejuvenated band in action.
The Stone Roses: Made Of Stone
The Stone Roses are the band credited with giving the '80s indie scene a taste of old-fashioned showbiz ambition, and sowing the seeds of ultimate rock classicism—as handed down to them from the Smiths—that lead to both Oasis and the British music press's obsession with the pantheon of Great British Guitar Bands. Thankfully Shane Meadows' movie focuses less on this over-reverential, academic stuff and more on the genuine excitement—including his own—generated by their return to active service.
Art Will Save The World: A Film About Luke Haines
In every celebration there is a complaint. As singer and songwriter with the Auteurs, Luke Haines found himself a part of the very early sparks and ignitions of Britpop, and wrote a great memoir called Bad Vibes: Britpop and My Part In Its Downfall pouring withering scorn on the era's more extreme self-congratulatory moments. His documentary is less about getting the band back together and more about the singular adventures of an artist in a cream suit, whose whimsy is stronger and delivered with greater conviction than any sentimental bluster about guitars with union jacks on.
Live Forever
In the absence of an Oasis reunion, much less a reunion documentary, there's Live Forever, a decent summary of the optimism of the era in which Liam and Noel Gallagher trample all over every single other interviewee (with the possible exception of Jarvis Cocker) with their glowering menace and sparkling wit, respectively.
There's also this film about the Libertines but a) too soon and b) STOP MUMBLING!
See more:
Happy 50th Birthday, Jarvis Cocker: Words to Live By
A Five Song Guide To The British Landscape
10 Songs That Should Have Been James Bond Themes
Five Songwriters Who Deserve The Comic Book Treatment
Read More
Filed Under: