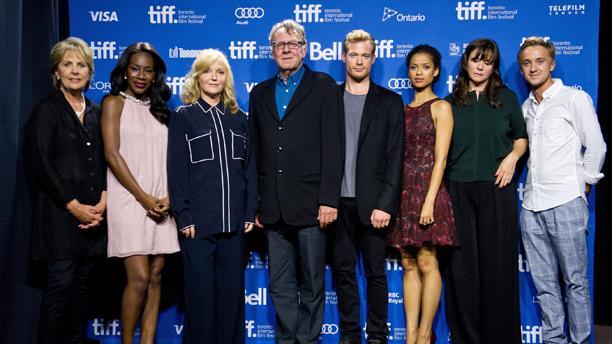 Belle, set in 18th-century Britain, is an odd concoction in that it melds the genteel pleasures of a Jane Austen style romantic costume drama with the ugly realities of the British slave trade. As cinema it actually works—and it brings to the screen the formidable talents of veteran actors Tom Wilkinson, Emily Watson, Penelope Wilton and Miranda Richardson—as well as Matthew Goode and some impressive lesser known relative newcomers. It's directed by Amma Asante.
It's really the biographical story, heavily fictionalized, of Dido Elizabeth Belle, a biracial woman played by Gugu Mbatha-Raw (NBC's Undercovers, Doctor Who). She grew up in the British household of her great uncle Lord Mansfield, who was also the Lord Chief Justice. He ruled in a case that was widely seen as a setback for slave traders—and it helped the abolition movement in the U.K. gain momentum.
Did his close relationship with Belle influence his decision?
"It's a debatable point," says Miranda Richardson, who plays the mean-spirited mother of one of Belle's suitors. "It's impossible to think that she didn't have an influence on him. I mean, maybe not in the way of petitioning but just by virtue of the fact she is in his household."
Sam Reid, who plays a young vicar drawn to Belle, agrees. He says: "It's not documented, but it's impossible to deny the fact that having her as his niece and ward that she would be a complete influence on his decision in the slave trade court."
Britain's slave trade took place overseas so it remained out of sight for many Britons—although they profited handsomely from it. Belle is designed to be an entertainment, but Sam Reid hopes it gets audiences to think, especially in relation to the goods that we consume today which might have been produced by cheap labor. "You know, we're not questioning where a lot of the things that we have in our lives are coming from, and I think this film reflects that well," he says.
See more:
'Undercovers' Underwhelms in the Ratings
Michael Fassbender Defends Brutality in '12 Years a Slave'
Read More
Filed Under: