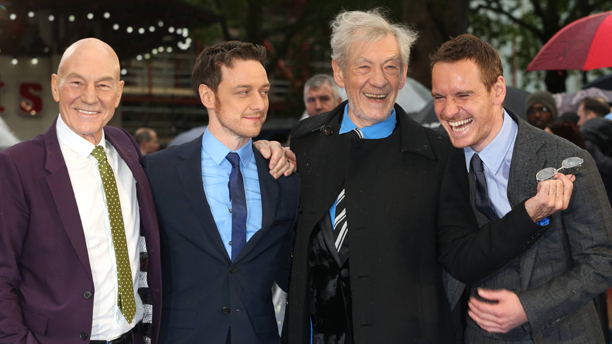 British talk show host Jonathan Ross greeted members of the cast of X-Men: Days of Future Past—Michael Fassbender, James McAvoy, and Sirs Ian McKellen and Patrick Stewart—on the blue carpet in Leicester Square, London, England, for their U.K. premiere on May 12.
In the video, Ross, with the help of TV presenter Laura Whitmore, warms up the crowd while fans patiently wait in the rain London-style.
The guys just wrapped up the U.S. premiere in NYC on Saturday night, May 10, and hopped on a plane to make their way to London as part of the Days of Future Past X-Perience.
The X-Perience consists of seven premieres, in seven cities, in seven days, gearing up to the U.S. release on May 23.
In addition to NYC and London, events will take place in Moscow, Singapore, Beijing, Singapore and Melbourne.
The rest of the cast, including Hugh Jackman, Jennifer Lawrence, Peter Dinklage, Omar Sy, Bingbing Fan, Nicholas Hoult and Ellen Page, will be splitting up to attend the events scattered across the world.
You can watch the event, which was filmed in real-time in London, below:
You'd think the guys would be wiped out from the whirlwind traveling, but they genuinely seem to enjoy each other's company, and may just think of it as a working holiday, rather than a press tour. And, of course, they are loyal to their fans and would never show up complaining of jetlag.
You can keep up with the X-Perience by following #XMENLIVE on Twitter.
What do you think of the X-Men X-Perience?
See More:
Battle of the Bromances: Fassbender and McAvoy vs. McKellen and Stewart
James McAvoy, Hugh Jackman and Michael Fassbender Attempt Impersonations of 'X-Men' Castmates
WATCH: Stewart, McKellen AND McAvoy In 'X-Men: Days Of Future Past' Trailer
Read More
Filed Under: